Truck accidents are among the most serious types of motor vehicle accidents in Boston and across the Commonwealth of Massachusetts.  While it is possible to escape a car accident unscathed, accidents involving a large commercial truck and a car, bicycle, motorcycle, or pedestrian often result in serious personal injury or even death as result of the tremendous amounts of weight and force from a tractor trailer.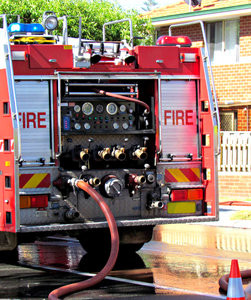 According to a recent news feature from Mass Live, a tractor trailer burst into flames after being involved in a serious motor vehicle accident with another large tractor trailer on the Massachusetts Turnpike (Mass Pike).
Authorities say they received the call at around 3 a.m. of a serious truck accident in the eastbound lanes of the Mass Pike. The accident occurred in the Charlton area, about hour from Boston.  When the two trucks collided, one of them tipped over and fell on its side. As it fell over and hit the ground, the truck burst in flames, and the resulting fire took firefighters hours to put out.  Both the eastbound and westbound lanes of the Mass Pike were closed as the firefighters battled the blaze and then cleared the wreckage so the road was safe for travel once again.   There have been no reports of whether anyone was injured in the two-truck accident or what the cause of this accident was.
One of the things that often comes up when talking about a Boston truck accident case is what is the applicable standard of care expected of a truck driver with a commercial driver's license (CDL).  There is no question that a driving a tractor-trailer requires more skill than driving an ordinary passenger car.  For this reason, a driver must take a written test of a few hundred questions and then show proficiency in completing a pre-trip safety inspection before taking the road test.  The driver must also have special certifications for air brakes, hazardous cargo, and for carrying passengers in the case of a bus.
For this reason, when a truck driver is alleged to be the cause of a motor vehicle accident involving personal injury, the jury must determine if the driver acted as a reasonable and prudent driver so as to prevent foreseeable injury to foreseeable persons and property.  However, since a truck requires more care that driving a regular car in some respects, the driver will likely be held to the standard of a reasonable and prudent truck driver in the same or similar situation so as to avoid an accident. For example, commercial drivers are required to stay much further back from cars ahead of them than someone driving a sedan, because it can take up to three football fields in length for a truck to come to a complete stop.   This means that if the truck driver was following the same distance as he could safety do in a car, he would likely cause a major car accident in the event the car in front of him stopped quickly.
If you are injured in an accident in Massachusetts, call Jeffrey Glassman Injury Lawyers for a free and confidential appointment — (617) 777-7777.
Additional Resources:
Pair of tractor-trailers crash, one catches on fire on Massachusetts Turnpike in Charlton, August 12, 2016, By Michelle Williams, Mass Live
More Blog Entries:
Car Accident Lawsuit Victim Awarded $800k in Judgement Against City for Worker Negligence, June 29, 2016, Boston Car Accident Lawyer Blog