The texting craze has apparently captivated older generations as a study released by the Pew Research Center indicates adults are just as likely as teenagers to text while driving.
Our Boston accident attorneys frequently report on the dangers of texting while driving. As we reported earlier this month on our Boston Car Accident Lawyer Blog, lawmakers just sent a proposed law to the governor that would make it illegal to text while driving in Massachusetts.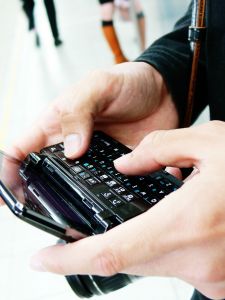 CNN reports that the research by the Pew Center found that nearly half (47 percent) of adults admitted to sending or receiving text messages while driving.
By comparison, 34 percent of teenagers admitted to texting while driving, according to a Pew Center report released last fall.
A similar percentage of adults (27 percent) and teens (26 percent) said they had sent text messages while behind the wheel. The statistics come as a bit of a surprise, as previous studies have suggested teenagers and young adults are most at risk of being involved in an accident while texting and driving.
"Adults may be the ones sounding the alarm on the dangers of distracted driving, but they don't always set the best example themselves," Mary Madden, a senior research specialist at Pew, said in a statement.
Overall, the study did find that those ages 18 to 34 were more likely to text and drive than other age groups. That holds with information from the federal government, which suggests that those under 20 have the highest proportion of distracted driving accidents.
Nationwide, more than 6,000 people are killed and 500,000 are injured each year in distracted driving accidents, according to the National Highway Traffic Safety Administration.

If you have been injured in a car accident in the Boston area, contact Massachusetts Injury Attorney Jeffrey S. Glassman for a free and confidential appointment to discuss your rights. Call 877-617-5333.