Hubway stations are a hot topic in Boston right now as many cities are looking to offer kiosks to cyclists as part of the regional bicycle sharing program. An increased number of bicyclists raises the odds of a bicycle accident in Boston, so riders should be careful when sharing roadways with vehicles. Boston personal injury lawyers agree that the convenience of the hubways will encourage users to opt for bicycles over public or private modes of transportation because bike-riding is healthier and more economical.
We first posted about the topic of Massachusetts Hubways on our Boston Car Accident Lawyer Blog earlier this month. The $6 million contract to be signed with Alta Bicycle Share is proposed to launch 61 bike stations and about 600 bikes throughout the city starting in July. The convenience of the bike sharing program allows commuters and visitors the opportunity to rent a bike for a quick trip or all day with the ease of returning it to any convenient kiosk location. The system will offer as many as 300 rental locations in the future, which means cyclists can get to and from their destinations with simplicity rather than withstand the aggravation of sitting in traffic or being late for an appointment.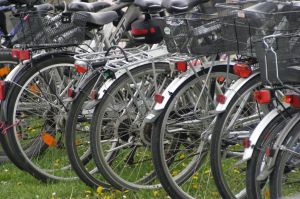 Boston.com reports that Harvard is the latest to support bike share stations in Cambridge. Harvard will offer four Hubways in Cambridge and five stations in the Allston and Longwood communities. The bike sharing program will charge patrons a monthly membership or daily fee depending on what the bicyclist prefers. Quick trips under 30 minutes will be free of charge.
But the growing interest in the bike sharing program could concern bicyclists who have a higher risk of being struck by a motor vehicle. Bicyclists involved in motor vehicle crashes can sustain broken bones, severe head trauma or internal injuries that can change a victim's life forever. The medical costs associated with hospital stays and medical care for these types of injuries can lead to a lifetime of debt.

If you or a loved one has been involved in a bicycle or car accident in Boston, contact a legal professional at Jeffrey Glassman Injury Lawyers, LLC. Our experienced team of personal injury lawyers are dedicated to fighting for the rights of victims and their families so call for a free consultation at (617) 777-7777.
More Blog Entries:
Boston Bicycle Accidents an Ongoing Concern Even as Cycling Crashes Decline Nationwide, Boston Car Accident Lawyer Blog, February 23, 2011
Early Dark Increases Risk of Boston Pedestrian Accidents, Boston Car Accident Lawyer Blog, November 10, 2010
Springtime in Boston can Lead to Increased Number of Cycling Accidents, Boston Personal Injury Attorney Blog, April 21, 2011