According to a recent news report from The Boston Herald, two victims were killed in a fiery car crash on Interstate 195 in Swansea, about 50 miles south of Boston.
Authorities say they responded to a motor vehicle accident report around 11 p.m. When they arrived on the scene, they found a single vehicle completely engulfed in flames. They believe the vehicle hit a tree and burst into flames after running off the roadway.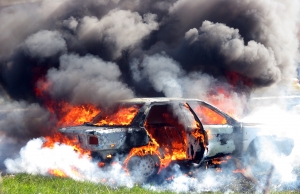 Firefighters were able to suppress the fire and get three occupants out of the vehicle. The two victims who were killed in this tragic single-car accident were a 22-year-old female and a 19-year-old male victim. There was a third victim in the car, a 20-year-old male from Taunton, Massachusetts, who survived the accident, but suffered serious personal injuries as result of the crash. First responders transported him to a local hospital for immediate medical attention after stabilizing him on the scene. Authorities are still investigating the cause of this double fatal Massachusetts car accident.
As our Boston car accident lawyers can explain, single vehicle accidents happen all the time, and that does not mean victims cannot be compensated for their injuries. However, these cases sometimes involve a somewhat different procedure than accidents involving an at-fault driver who was driving a different vehicle.

One important thing to do is to determine all potential sources from which victim can recover. If the driver has enough liability insurance on his or her car, you may be able file a claim and enter into a fair settlement with driver's insurance carrier. However, it is important to understand, just because you and the driver are friends, this does not mean driver's insurance carrier will treat you as a friend and quickly make you a reasonable settlement offer that will provide and full and appropriate financial recovery.
Unfortunately, it is more likely driver's insurance company will make a ridiculously low initial offer and fight you every step of the way, as they are probably far more concerned about their profit statements that your friendship with driver, or even your health and well being. It is no secret insurance is big business. Like any big corporation, insurance companies often want to make as much as money as possible and will put their interests ahead of others.
This means the best thing you can do is to consult with an experienced car accident lawyer who will do what is necessary and fight for your right to full financial recovery. The problem is compounded, because it may involve filing a civil personal injury lawsuit against your friend. While this is not a situation in which anyone would choose to be, you are likely facing a great deal of medical bills, lost wages from time away from work, and possibly future medical expenses for accident-related care.
Another source of recovery would be if driver has other assets beyond car insurance. This could involve equity in a home, other investments, or even cash in the bank. Again, nobody wants to sue a friend, but there may be no other way to recover for your losses and you should speak with your attorney about this possibility.
If you are injured in an accident in Massachusetts, call Jeffrey Glassman Injury Lawyers for a free and confidential appointment: (617) 777-7777.
Additional Resources:
Police identify 2 people killed in fiery crash in Swansea , Apr. 26, 2015, Boston Herald
More Blog Entries:
Woman Run Over by Own Car at Massachusetts Hotel, June 26, 2014, Boston Car Accident Lawyer Blog