On February 4, our Boston bus accident attorneys wrote about a Boston bus crash that left a group of 42 students and chaperones trapped on a charter bus after the bus ignored maximum height warnings. At least 32 of those on the bus suffered injuries in the accident, some of which were life threatening. The bus accident was a tragic end to a visit to Harvard University that had been billed as a fun trip for Philadelphia students.
Unfortunately, it seems clear that the driver of the charter bus, who was also a school bus driver, was careless in heeding the warnings posted on the road and as a result put every life at risk. These types of accidents aren't supposed to occur when a bus has been chartered because commercial bus drivers are held to a high standard in order to protect passengers. Yet, despite the strict rules for commercial drivers, this accident illustrates that bus accidents can and do happen and that they aren't always prevented by safety laws.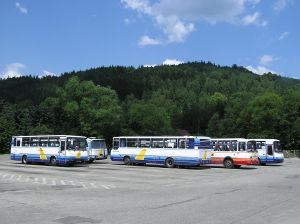 For those chartering a bus or planning a bus trip, it should, therefore, be a priority to make sure that the bus company employs only safe and qualified drivers and to ensure that the bus company takes safety seriously. Fortunately, the Federal Motor Carrier Safety Administration provides certain resources for bus passengers to help them to make informed choices by becoming educated about carrier safety.
FMCSA Bus/Passenger Carrier Information
The FMCSA provides information to bus passengers on its website under the Safety & Security tab. Resources available on the website include:
A bus safety checklist for those who are planning a bus trip.
Tips and rules for operating a passenger vehicle when traveling in a group
Tips on selecting the correct vehicle for your trip
Tips on choosing a safe company to transport you on your trip
Information on regulations and rules for each different type of motor carrier
FMCSA also provides a link to report a safety violation or to report a passenger carrier or bus that is not complaint with the Americans with Disabilities Act. If you have been on a bus trip with an unsafe driver or unsafe equipment or if you have noticed risky behavior on the part of a motor carrier, you should always report the potential safety infractions to FMCSA to ensure it has up-to-date information so FMCSA can launch an investigation into potential problems before someone gets hurt.
Tips for Hiring a Safe Carrier
FMCSA's website is an important starting point for those researching motor carriers when planning a trip or chartering a bus. When you are making use of FMCSA information, you should be sure to check:
The safety performance history of the bus company that you are traveling on or that you are thinking about hiring.
The safety rating of the bus company. Satisfactory is the top rating awarded by FMCSA. If the bus company that you are considering has a "conditional" safety rating, then you may want to think twice because the bus company has proven to have certain safety violations or lapses in compliance. If the bus company has a final rating of unsatisfactory, they should not be operating and you should report them to FMCSA if they are trying to offer you transportation.
By using the resources available to you and by checking on the background and rating of a bus company before you charter a bus or travel on a bus, you can hopefully avoid becoming the victim of a bus crash.  

If you or a loved one has been injured in a bus accident in the Greater Boston area, contact Jeffrey Glassman Injury Lawyers, LLC for a free consultation. Call (617) 777-7777.