Not all Massachusetts car accident injury claims will be resolved in a courtroom. Some of course will be settled without ever having to file a lawsuit. Injured motorists, passengers or bicyclists simply file a claim with the insurer, the insurer makes a reasonable settlement offer, claimant signs off on it and it's done. (This is usually for cases wherein injury was not serious and damages weren't extensive.) Other times, claims will be resolved via arbitration.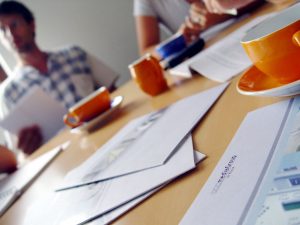 Arbitration is not necessarily a preferred forum for resolution of Boston car accident claims (or any civil litigation) where the plaintiff is concerned. It's not a transparent process, and results tend to be more favorably skewed toward the defendant/ insurer (at least compared to personal injury litigation outcomes). However, many courts in Massachusetts will uphold arbitration agreements, depending on the language in the insurance policy.
For instance last year, the Massachusetts Appeals Court held the lower court (Bristol County Superior Court) in Chamberland v. Arabella Mutual Insurance Company did not abuse its discretion in deciding the insurer could compel plaintiff in the car accident lawsuit to resolve the underinsured motorist claim via arbitration, rather than in a courtroom. 
What is Arbitration in Massachusetts?
Most states – including Massachusetts – allow parties in a dispute to resolve matters in arbitration, rather than by trial in a court system. In fact, Massachusetts was the first colony to support arbitration as a means of dispute resolution, back in 1632. However, it wasn't until Congress adopted the Federal Arbitration Act in 1925 that we started to see an increase in these cases. Prior to that, the judiciary had largely refused to enforce arbitration agreements.
The federal statute creates public policy that favors arbitration and provides a number of different procedural and substantive requirements in arbitration, including actions to stay and compel arbitration, procedures for appointing arbitrators and the power arbitrators have to issue summons to compel witnesses and produce documents. It also addresses how awards are issued, how they are enforced and how they can be vacated or appealed.
In Massachusetts, MGL c. 251 is the Massachusetts Uniform Arbitration Act, which adopts central provisions of the FAA, making both pre- and post-dispute arbitration agreements valid, enforceable and irrevocable – except on grounds for the revocation of other contracts. These agreements can be found in everything from employment contracts to consumer purchasing to car accident insurance disputes.
However, while Massachusetts endorses the validity and enforceability of pre-dispute arbitration agreements, courts continue to be skeptical when strong public policy interests are adversely affected. This is why car accident victims compelled to submit to arbitration by their auto insurer should nonetheless ask an experienced personal injury lawyer to explore their claim.
Chamberland v. Arabella Mutual Insurance Company
A case last year before the Massachusetts Appeals Court asked whether an underinsured motorist coverage dispute had to be resolved in arbitration, or whether the policyholder could continue pursuit of the UIM claim before a trial court.
According to court records, the undisputed facts were that plaintiff was injured in a 2007 car accident while operating a vehicle insured under a policy issued by defendant – a policy that included benefits in the event the policyholder was injured by an underinsured motorist.
The other vehicle's driver was insured by Liberty Mutual Insurance Company. Plaintiff sued that other driver (a car accident lawsuit that dragged on for years, culminating in two jury trials and numerous appeals). Ultimately, the second trial jury concluded defendant was solely at fault and plaintiff was entitled to $231,500 in damages – or $340,500 with statutory interest. Defendant appealed.
While that appeal was pending, plaintiff (with her own auto insurer's consent) reached a settlement with defendant and his auto insurer, who agreed to pay the full $100,000 policy limit for bodily injury liability available under that policy, thereafter releasing defendant and his insurer from all future claims. Defendant never admitted liability and in fact continued to deny it.
UIM carrier asked to be kept informed of the progress. Plaintiff's attorney then notified her auto insurer of the $340,000 judgment against defendant driver, and sought payment of the remaining balance of $240,000 under her own UIM policy (which was $250,000 maximum per person and $500,000 per accident).
Defendant UIM auto insurance carrier refused, stating it wasn't bound by the judgment against defendant driver (it wasn't a party to that action) and it was entitled to resolve issues of its liability for UIM benefits and any subsequent damages in arbitration.
Plaintiff then filed a lawsuit against Arabella, arguing that she was entitled to the remaining UIM benefits of her policy and that the insurer engaged in unfair settlement practices, pursuant to MGL c. 93A and MGL c. 176D. Defendant denied this and filed a counterclaim for appointment of an arbitrator. The judge granted a required offset of $100,000 for bodily injury coverage plaintiff had received under defendant's auto insurance policy, and declared defendant UIM insurer liable for $131,000 in damages. UIM insurer appealed.
The court noted that either plaintiff or her auto insurer had the option of demanding arbitration at any time, given the policy language. Plaintiff argued the insurer waived its right to arbitration by waiting until after the passage of two jury trials, and the lower court agreed. The appellate court reversed, finding this determination was an abuse of the lower court's discretion. Essentially, that the auto insurer had wasted judicial time and efforts by adopting a "wait-and-see" approach. However, the appellate court held, there is nothing – in previous court rulings or statutory law – to suggest an insurer or insured who waits until the conclusion of insured's legal action against a tortfeasor means that the act of pursuing arbitration is untimely. Further, because defendant auto insurer was not a party to the original action, it could not fairly be held accountable for wasting judicial time and effort because it waited for plaintiff's action against the at-fault driver to conclude. As soon as the settlement with defendant driver/ his insurer was finalized and plaintiff made a demand for UIM benefits, Arabella demanded arbitration.
The auto insurer never explicitly waived its right to arbitrate and did not act inconsistently with its statutory and policy-based rights to arbitrate.
The bottom line is that if your auto insurer is seeking to compel you to engage in arbitration, it's imperative to contact an experienced car accident attorney in Boston. You may not be able to reject the process, but it's worth it to explore it if you can. And even if you do have to work your way through arbitration, having a dedicated injury lawyer by your side who understands the law and your rights can make a huge difference.
If you are injured in an accident in Massachusetts, call Jeffrey Glassman Injury Lawyers for a free and confidential appointment — (617) 777-7777.
Additional Resources:
Mass. Court Says Arbitration is Allowed in Underinsured Motorist Claim Suit, June 20, 2017, By Elizabeth Blosfield, Insurance Journal
More Blog Entries:
Wrongful Death Car Accidents — Cases of Delayed Death in Massachusetts, Feb. 10, 2018, Boston UIM Car Accident Attorney Blog