A recent accident, on Sumner Avenue near Lester Street, took the life of a mother and seriously injured her nearly 2-year-old daughter. The mother and her stroller were hit by a passing motorist. The child was ejected from the baby stroller and flew onto the side of the road.
The child was last reported to still be in the pediatric intensive care unit at Baystate Medical Center. She is suffering from an abrasion to her liver, a collapsed lung and a few broken ribs. She needed nearly 30 staples to close up a cut in her head, too.
To make matters even worse, the driver who hit the mother and the daughter didn't even stay at the scene to offer help, instead he drove off after the collision. Luckily, officers have the driver. He turned himself in to the headquarters. He is awaiting his arraignment and is facing charges of driving a motor vehicle with a revoked license, using a motor vehicle without authority, leaving the scene of a personal injury crash that resulted in a fatality, leaving the scene of a personal injury accident, negligent operation of a motor vehicle and motor vehicle homicide.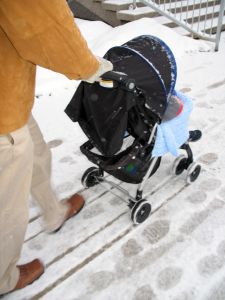 "It was an accident, but it stopped being an accident as soon as he left," said the mother and grandmother of the victim's.
Our Boston pedestrian accident lawyers understand how dangerous our roadways can be, especially if you're traveling on foot. Every year, there are hundreds of pedestrians who die in vehicle-related accidents. Both drivers and pedestrians need to be aware of their surroundings at all times to help to reduce the risks of these accidents. This is especially important when one of these pedestrians is a parent, traveling with a young child.
The mother and the daughter were heading home from the mall at roughly 8:00 p.m. when the accident happened. The bus stop where the two got off is right in the middle of the two closest crosswalks. Heading to these crosswalks means tacking on another half mile to their journey. Residents say that the absence of crosswalks and the heavy, speeding traffic produces a deadly combo.
Pedestrians are asked to keep a lookout for dangerous drivers at all times. This is especially important when you're walking with a young child. When you're walking with a stroller, you want to make sure that you have ample time to get across the roadway. Rushing with a stroller is not only dangerous in terms of a vehicle-related accident, but it also poses injury risks to your child.
You want to avoid walking at night, especially with small children. If you have to walk when it's starting to get dark out, make sure that your wear bright-colored clothing and reflective materials to help passing motorists to see you more easily.

If you have been injured in an accident in Boston or elsewhere, contact Massachusetts Accident Attorney Jeffrey S. Glassman for a free and confidential consultation to discuss your case. Call (617) 777-7777.
More Blog Entries:
NeighborWalk Logs More Time for Healthy Residents!, Boston Car Accident Lawyer Blog, July 15, 2012
Student Badly Injured in Brockton Pedestrian Accident, Boston Car Accident Lawyer Blog, April 14, 2012