There were two separate accidents on Interstate 93 South in Andover that caused some serious traffic backups. According to 7News, two of the lanes were blocked with two three-car accidents. The backup went for about 9 miles all the way into New Hampshire. Officials also got word of a crash within the backup.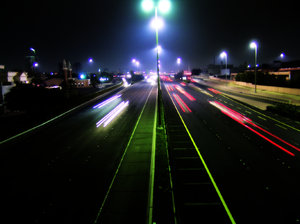 Once drivers got through the congestion at 133, the drive into Boston was relatively clear.
Our Boston car accident lawyers understand that many of us don't think about the dangers of the interstate while we're on our daily commute. But the truth of the matter is that it's the most dangerous part of our day. Recent statistics shows the high risk of severe damages, injuries, and deaths resulting from traffic collisions on interstate highways. A driving education aims to develop awareness on how to drive safely in interstate highways and to avoid any loss of life or damage to property. Mainly, these safety tips are anchored on the idea of defensive driving that has been taught and vigorously pushed by any driving school in your area.

Getting On The Interstate:
Be cautious of your speed while traveling on ramps. Usually, the speed on these ramps is 45 miles per hour. Travel cautiously on these roads and remember to up your speed once on the interstate. You want to ease into the flow of traffic without any problems.
Changing Lanes:
Wait for an opening in traffic. Put on your turn signal to alert drivers around you of your intended maneuvers. Make sure you allow yourself with plenty of room and be sure that you don't cut anyone off.
Speed:
Under no circumstances should you exceed this limit. It doesn't matter that only once in the history of the world has anyone been pulled over for doing less than 10mph over the limit; it's there for your safety so observe it. Make sure you always travel the posted speed limit and try to keep in the right lane. The left lane is typically used for passing vehicles.
Exiting The Interstate:
Turn on your blinker in advance to alert other drivers that you will be getting off. Get into the proper lane as soon as possible. Don't make last-minute merges to exit. Once you've gotten on the off ramp, behind the slow your speed. Remember that speed limits on these roads are usually 45 miles per hour. Travel at the posted speed limit.
Interstate Breakdown:
If you run into car troubles on the interstate, try to get as far off to the side of the road as possible. Avoid getting out of your car. Remain inside with your seat belt fastened and call for help.
Time of Day:
Avoid driving at night if you can. Nighttime, especially Saturday night and early Sunday morning, is the most hazardous time to drive. Some drivers exceed the speed limit, drink too much and try to drive home when they are too tired to do so. Then there are those who refuse to drive within the range of their vehicle's headlights.
If you or a loved one was involved in a motor-vehicle accident, contact Jeffrey S. Glassman for a free and confidential consultation to discuss your rights. Call (617) 777-7777 today.
More Blog Entries:
Pet Safety Restraints Keep Animals and Passengers Safe, Boston Car Accident Lawyer Blog, November 4, 2013
Winter Jackets May Hinder Car Seat Effect, Boston Car Accident Lawyer Blog, November 2, 2013