According to a recent news article in the Boston Globe, Darius Fleming, a linebacker for the New England Patriots, is being called a hero after he sustained an injury pulling a woman from her car after she was involved in a car accident in Foxboro.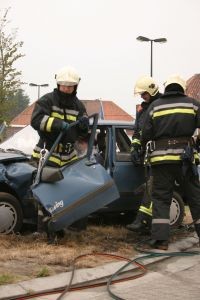 Witnesses say the woman was involved in a three-car accident just outside of Gillette Stadium along Route 1.   When Fleming arrived, he saw that the victim was trapped in her car, and there appeared to be smoke coming from it, so he believed the vehicle was on fire. As it turns out, the car was not on fire, but it was dust and smoke from the airbag deployment. It is common for people to think the car is on fire after an airbag deploys. There is also often a burning smell from the charge that deployed the airbag.
The woman said she was trapped in her car because all airbags had deployed, and they prevented her from getting out of the vehicle. Fleming ran up to the car and yelled that he would kick out the window. He first tried to break it with his elbow, and that proved unsuccessful, so he then went to kick the window.   After kicking through the car window, he reached in and pulled the 25-year-old Newton, Massachusetts woman out of her wrecked vehicle.
Fleming said he would have waited with her until the police arrived, but she told him that she was okay and that he did not need to stay. At this point, he noticed he had a serious cut on his leg from the auto glass and went to the stadium so the team medical staff could attend to his injury. The team medical staff stitched up his leg, and he was able to play in the next game.
The Foxboro car accident victim said she was thankful for what Fleming had done. She said she did not recognize him, but realized he must to a football player based on the proximity to the team complex and because he was wearing team warm up clothing and physically looked like a football player.   She also said that she was trying to get out of the car without assistance, but she was unable to do so without help. She did not know he was injured in the rescue but said he was a hero and she was really grateful.
As for Fleming, he was very modest and said that he just did what anyone would have done if they saw a person trapped in a smoking car. While this is nice statement, it is unlikely that everyone else would have jumped in to help a victim of car crash in the manner in which Fleming did. This especially true when you consider how easy it is for the rescuer to become injured, as was the case with Fleming.
This Middlesex County car accident occurred in from of the victim's business, which is veterinary neurology and pain management facility.
If you are injured in an accident in Massachusetts, call Jeffrey Glassman Injury Lawyers for a free and confidential appointment — (617) 777-7777.
Additional Resources:
Patriots' Darius Fleming hailed as a hero after crash, January 20, 2016, Boston Globe, by Ben Volin
More Blog Entries:
Pedestrian Dragged Hundreds of Feet in Car Crash – Western Massachusetts, June 13, 2015, Boston Car Accident Attorney Blog