A recent four-car accident in Massachusetts that happened on Interstate 93 was caused by one irresponsible, on-the-run driver. The traffic accident happened toward the end of a state police pursuit involving a stolen car. Luckily, there were no injuries reported, according to the Boston Globe. The accident happened after a state police officer located a wrong-way driver in a vehicle that was believed to be stolen. Inside the alleged stolen vehicle was a 48-year-old driver and a female passenger. Officers are still looking for the female passenger, who escaped.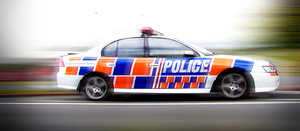 According to Massachusetts State Police, the accident happened just before 12 p.m., when a sergeant located a minivan that had been reported stolen from a Chrysler dealer earlier in the day. The Sergeant reportedly started to pursue the minivan in Dorchester on Adams Street but the driver refused to pull over.
Our Massachusetts car accident lawyers understand that police pursuits often pose serious threats to innocent and law-abiding motorists. In the recent Massachusetts pursuit, the sergeant followed the minivan through Andrew and Everett squares and into Koscuisko Circle. At that point, the minivan started to drive on the wrong side of the road on Morrissey Boulevard. It was then that state police called off the pursuit because of "the obviously dangerous conditions." State police did continue to monitor the minivan's path, however. Officers report that the driver of the stolen vehicle got onto the Interstate, heading south in the northbound lanes, and caused four vehicles to crash before exiting the Interstate near Neponset Circle.
Those who are injured in a pursuit-related accident should seek the assistance of an experienced attorney. Determining fault and collecting the compensation you deserve can be a difficult process requiring knowledgeable representation.
In this case, Massachusetts State Police and Boston officers searched the neighborhood and eventually located the stolen minivan, abandoned, on Taylor Street. The driver was found shortly afterward, hiding underneath a nearby pickup truck.
"Thanks to the tenacity of the troopers and officers involved in this incident, a reckless and dangerous person…is off the streets today," said David Procopio, spokesman with the Massachusetts State Police.
The driver is now facing a number of charges, including operating to endanger, failing to stop for police, and a stolen motor vehicle charge from Suffolk County, as well as a charge of larceny of a motor vehicle in Middlesex County.

According to Voices Insisting on Pursuit Safety (VIPS):

-Police chases for non-violent crimes kill nearly five innocent bystanders every week in the U.S.
-Police chase-related accidents kill at least one police officer every six weeks.
-The majority of police-chase pursuits happen when an officer stops a vehicle for a simple traffic violation.
-Third parties who encounter police pursuits account for more than 40 percent of the people who are injured or killed in these types of accidents.
-The FBI reports that every 100 police pursuits results in a death.

If you or someone in your family has been injured in a pursuit-related car accident in Boston or elsewhere in Massachusetts, contact Boston Injury Lawyer Jeffrey S. Glassman. Our firm offers free and confidential appointments to discuss your rights. Call 877-617-5333.
More Blog Entries:
Parents Offered New Resource to Help Reduce Risks of Teen Car Accidents in Massachusetts, Boston Car Accident Lawyer Blog, January 15, 2012
Politicians Rethink Laws to Help Reduce Risks of Car Accidents in Massachusetts, Boston Car Accident Lawyer Blog, January 13, 2012