According to a recent USAA study, returning military personnel typically experience about 15 percent more car accidents in Boston and elsewhere.
In these accidents, they're typically at fault and the increase spans through the first six months they're back from active duty. Their accidents are typically higher than the six months prior, while driving overseas. USAA, a popular insurer for those in the armed forces and their families, conducted its study be looking at more than 170,000 deployments over a three-year period. The study took place while everything was going on if Afghanistan and Iraq.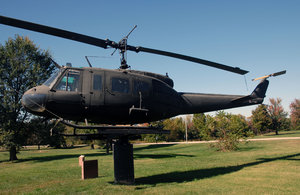 What the study concluded is that many of these soldiers continued an overseas combat-like driving style once they returned to the states. The auto accident rates for both Marines and Army members rose by nearly 13 and 25 percent, respectively. This doesn't surprise researchers though, considering nearly 15 percent of these auto accidents were caused by "objects in the road," which can be compared to "explosive devices" and other dangerous roadside obstacles found at war.
Our Boston personal injury attorneys understand that wasn't the only correlation between on-duty driving and military personnel risks for accidents here. Officials with USAA also determined that there was an interesting correlation between the number of deployments of a driver and their rates of auto accidents on our roadways. Drivers who had been deployed more than twice were involved in nearly 40 percent more accidents. Those deployed only twice were in less than 30 percent more accidents and those who had only been deployed once had a less than 15 percent increase in accidents than a normal driver. According to a recent study, deployments typically have lasted from 8 to 14 months, since 2001.
The age of the military personnel was also relevant in the number of accidents they experienced once they got home. Military personnel who are 22-years-old and younger were involved in many more wrecks than those who were 30-years-old and older.
Military rank also played an important role in these soldiers' risks for an auto accident. Higher ranked soldiers were typically involved in less auto accidents than their lower ranked soldiers.
"USAA has also shared the study with academics and traffic safety experts and has taken steps to make USAA members aware of the behind-the-wheel risks for returning troops," said officials with USAA.
Officials with the Office of Public Affairs of the Army said they had nothing to do with it since it was headed by the insurance company and not the government.
The USAA survey and its findings are just another addition to the growing library of information regarding both the physical and psychological effect that deployment and war have on our soldiers.

If you or someone you love has been injured or killed in a car accident in the Greater Boston Area or elsewhere throughout the state of Massachusetts, contact Boston Injury Lawyer Jeffrey S. Glassman. Our law firm offers free and confidential appointments to victims and the families of victims. Call 877-617-5333 to schedule your appointment today.
More Blog Entries:
Arvizu v. Puckett & Liability in Boston Car Accident Cases, Boston Car Accident Lawyer Blog, April 17, 2012
Motorists Warned of Overnight Road Closures on Interstate 93, Boston Car Accident Lawyer Blog, April 3, 2012