Road rage and aggressive driving are common risks, especially with the congested summer traffic.
According to MSNBC, road rage was what led to a woman's death in a recent New Jersey car accident. According to law enforcement officials, a 27-year-old and a 20-year-old are facing charges of vehicular homicide and a number of other motor vehicle violations because of it.
Allegedly, the two lost control of the vehicle as they were attempting to pass another vehicle on the right, in the exit lane. Their vehicle flipped over and hit another car. A woman in that other car was ejected and was killed. According to witnesses, the two were tailgating the victim's vehicle and making a number of frantic lane changes just seconds before the accident.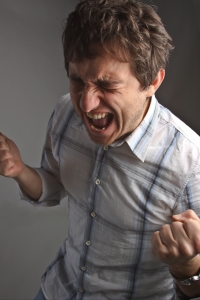 According to the AAA Foundation for Traffic Safety, road rage is used to describe aggressive behavior of a driver, but most oftentimes is used to describe more extreme acts of aggression, such as a physical assault, that occur as a direct result of a disagreement between drivers.
Unfortunately, road rage leads to a number of car accidents in Boston and elsewhere each and every day. With the summer travel congestion here, drivers are getting more frustrated behind the wheel and are acting out. It's important to keep your cool to prevent one of these accidents. There are also specific ways to handle an aggressive driver, should you ever encounter one.
Our Boston car accident lawyers understand that nearly 2,000 people are injured or killed each year in the U.S. as a result of this dangerous driving behavior. AAA officials recently conducted a study of more than 10,000 incidents of road rage and determined that anyone can be a victim. Drivers are urged to stay calm behind the wheel. This can be done by allowing extra time to get to and from your destination, by checking traffic reports to see where there are backups and detours and my just taking a moment to breathe. These kinds of accidents are 100 percent preventable.
How to avoid becoming a victim of road rage, from AAA's "Road Rage, How to Avoid Aggressive Driving":
-Never engage a bully. You can easily protect yourself from an enraged driver by refusing to get angry back at them.
-Make sure to stay away from them. Give them plenty of room. Remove yourself from the area as quickly as possible.
-Avoid making eye contact with the driver. Keep it as impersonal as possible.
-Call for help. Drive to a spot where there are other people and call authorities.
-Before you react to anything that is done to you please ask yourself, "Is getting back at that jerk worth my life?"
-Never make obscene gestures.

If you or someone in your family has been in an accident in Boston or elsewhere in Massachusetts, contact Boston Injury Lawyer Jeffrey S. Glassman. Our firm offers free and confidential appointments to discuss the rights of accident victims. Call 877-617-5333 to set up your free appointment today.
More Blog Entries:
Four Injured in Teen Car Accident in Foxborough, Boston Car Accident Lawyer Blog, June 21, 2012
New Technology Curbing Car Accidents in Boston and Elsewhere?, Boston Car Accident Lawyer Blog, June 17, 2012