A State Trooper was hit by a speeding vehicle during a speed enforcement detail earlier this week, according to Boston.com. While he was flagging down speeders to help reduce the number of car accidents in Boston, he became a victim.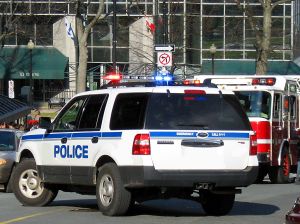 The officer was working detail in a highway tunnel in South Boston when the accident happened. The driver sped off after striking the officer, but was captured on video by a number of surveillance cameras. The hit-and-run motorists left the officer lying in the street.
Our Boston car accident attorneys understand the dangers that our local law enforcement officers face to help keep our residents safe. As officers and troopers put their lives on the line every day to prevent motor vehicle accidents on our roadways, it is not uncommon for them to be involved in one on the job.
"We absolutely plan on catching him," said David Procopio, a State Police spokesman.
The accident happened shortly after 9:00 a.m. on Monday on the ramp of I-90 East from I-93 North. After the accident, he was transported to Boston Medical Center. He was last reported to have been being treated for serious injuries and is expected to survive.
"Once again, we are reminded of the inherent dangers of a state trooper's job, and once again we find ourselves saying 'but for the grace of God, we could be planning another trooper's funeral,' " Procopio said.
Photos from the surveillance video were released and showed a black two-door sedan. The vehicle had light-colored interior with dark-tinted headlights. Officers believe it may have been a Honda Civic from the late 90's or early 2000's.
In the meantime, State Police are searching for two potential witness vehicles which they believe to have seen the hit and run vehicle. Police believe these motorists may be able to help them to identify the careless driver.
Massachusetts crime scene investigators are also combing the trooper's uniform in search of any physical evidence that may help them to find the vehicle.
"We are utilizing whatever investigative means are available to us to zero in on this car," said Procopio.
They also suspect that the fleeing vehicle suffers from minor damage. They further describe the damage as dents and scuff marks on its right front bumper, fender, hood, and windshield.
It is estimated that since the beginning of last year, the state has witnessed 44 state troopers struck by motor vehicles while they were on duty. About half of these incidents involved a driver that was under the influence of alcohol or drugs during the time of the incident.
According to National Public Radio (NPR), there were nearly 200 police officer deaths nationwide in 2009.

The Boston injury lawyers at Jeffrey Glassman Injury Lawyers, LLC are dedicated to fighting for the rights of victims and their families in Massachusetts. Contact our experienced team if you have been injured in an accident by calling (617) 777-7777 to set up a free and confidential consultation to discuss your rights.
More Blog Entries:

State Trooper Injured on the Job in Massachusetts Car Accident, Boston Personal Injury Attorney Blog, March 25, 2011
Study to determine ways to reduce risk of Massachusetts car accidents involving state troopers, Boston Personal Injury Attorney Blog,July 27, 2010
Massachusetts trooper injured after being struck by passing motorist, Boston Personal Injury Attorney Blog,July 7, 2010