Teens nowadays may not be as excited to get behind the wheel as they once were. They're now relying more on public transportation and other ways to get around. Driving just isn't cool as it once was, many would say. Some teens are even a little frightened by it, saying they're intimidated by having the ability to control something that could potentially kill them.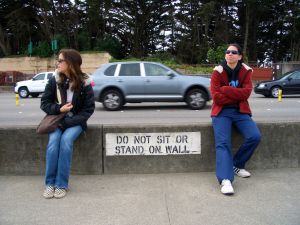 We oftentimes talk about the high risks that our teens are at for car accidents in Braintree and elsewhere in the area. But the truth of the matter is that a growing number of teens understand the dangers, they're staying from behind the wheel and they're finding different ways to get around.
Our Braintree car accident lawyers aren't saying to ease off of your teen drivers, but to recognize that they may have a different agenda that includes alternative modes of transportation. Regardless, whether they want to drive or not, it's important that they receive a thorough driver's education. There's going to be a time when they need these skills. Let's make sure they have them.
"Generation Y," (Gen-Y-ers or Millennials) is coveted marketing demographic encompassing the 80 million U.S. residents between the ages of 16- and 34-years-old, according to Yahoo. This generation is larger than the post-World War Two baby-boom generation and many of them find driving to be more of a chore than the anticipated right that it once was.
When you break it down, the entire country is driving less at the turn of the 21st century. Young people are just taking this trend to a whole new level. From just 2001 through 2009, the average number of vehicle miles traveled among young drivers, those aged 16- to 34-years-old, dropped close to 25 percent, going from nearly 10,500 to less than 8,000. Many of these young people now choose to walk, ride a bicycle or take public transportation to where they need to be. Of this young age group, more than 25 percent of them didn't even have a driver's license in 2010.
One of the top reasons for this decrease, experts believe, is the actual cost of driving. All costs considered, it's just cheaper to ride a bike, to walk or to even take public transportation.
"They're shouldering higher mortgage costs, rent; their insurance costs are higher than previous generation's," said David Jacobs of the marketing firm Tombras Group.
Whether your teen chooses to drive or not, it's important no matter what that they're taught how to do so properly. Regardless of the decrease in the number of these young drivers, car accidents continue to be the leading cause of death for them. Help to equip your teen driver with the tools to stay safe on our roadways, should they ever decide to use them.

If your family is dealing with an accident in Braintree, Quincy, Boston or in any of the nearby areas, contact Injury Attorney Jeffrey S. Glassman. Our law firm offers free and confidential consultations to discuss the rights of accident victims and their families. Call 877-617-5333 to schedule your free consultation today.
Additional Resources:
America's Generation Y not driven to drive, by Deborah Zabarenko, Yahoo
More Blog Entries:
Four Injured in Teen Car Accident in Foxborough, Boston Car Accident Lawyer Blog, June 21, 2012
Driving Dangers: Car Accident in Haverhill Lands Teen Behind Bars, Boston Car Accident Lawyer Blog, June 11, 2012