A woman was killed after a recent car accident on the Massachusetts Turnpike. A 62-year-old woman from Portsmouth, New Hampshire died after the tire on her Lincoln Town Car came off the vehicle around 2:00 p.m., according to the Worcester Telegram. After the tire left the vehicle, the Town Car hit a guardrail, spun out and was thrown down an embankment. The driver, who was not wearing a seat belt, was thrown from the vehicle. She was transported to Wing Memorial Hospital in Palmer where she was later pronounced dead.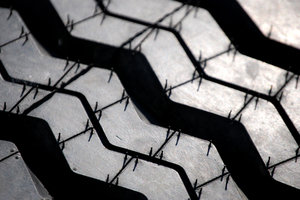 A 24-year-old passenger in the vehicle was also taken to the hospital and treated for injuries. She was reportedly wearing her seat belt at the time of the accident. The accident is currently being investigated by the State Police Crime Scene Services Section and the State Police Collision Analysis and Reconstruction Section. The far right westbound lane on Route 90 in Warren was shut down for about 30 minutes, causing nearly eight miles of backed up traffic.
As we recently reported on our Boston Personal Injury Attorney Blog, motorists have been urged by the U.S. Department of Transportation (DOT) to take a peek at their vehicle's tires to help prevent a potentially fatal accident on our busy Massachusetts roadways. Although this consumer advisory was released specifically for summer travel, it's apparent that motorists need to keep an eye on their tire conditions all year long. We may be into the beginning of the fall season, but the summer-like weather is still here and the heat increases your risks of a tire-related car accident.
According to the National Highway Traffic Safety Administration (NHTSA), approximately 3,500 people died as a result of tire-related traffic accidents from 2005 to 2009. The NHTSA also estimates that more than 115,000 people were injured in these types of incidents. A great deal of these fatalities and injuries can be prevented if motorists take the proper precautionary steps to ensure the safe-condition of their vehicle's tires.
You are urged to check out the tire pressure in all four of your tires. Low tire pressure mixed with the heat of the roadway can be a deadly combination. Accidents caused by these conditions can easily be prevented.
You're also urged to check the condition of your tires. Old worn tires are more susceptible to serious damage during travel. You can easily check the condition of your tires by examining the sidewall. Make sure that there's ample tread on each tire. Balding tires not only reduce your control over the vehicle, but also reduces your ability to safely navigate the roadway.
And lastly, we know that everyone wants to get as much as they can out of their vehicle and their fuel. Another reason why properly inflated tires are so important is because it helps you to get the maximum mileage from your gas tank. Under-inflated tires significantly reduce the number of miles you can get from each gallon of gas. Just a 25 percent drop in tire pressure can cause you to lose nearly 3 miles per gallon.

If you or a loved one has been injured in a tire-related car accident in Boston or any of the surrounding areas, contact Massachusetts Car Accident Attorney Jeffrey S. Glassman for a free and confidential appointment to discuss your rights. Call (617) 777-7777.
Additional Resources:
Woman killed when tire comes off on Mass. Pike, by Bronislaus B. Kush, Worcester Telegram
More Blog Entries:
Inexperienced Teen Drivers Heading to and from School Facing Risks of Car Accidents in Massachusetts, Boston Personal Injury Attorney Blog, August 29, 2011
Fall Season Brings Wild Animals and Increased Risks of Fatal Car Accidents in Massachusetts, Boston Personal Injury Attorney Blog, August 20, 2011