Our Boston car accident lawyers know that a bus crash can lead to very serious personal injury. According to a recent article in the Boston Globe, a driver alleged to be operating under the influence of drugs hit a Massachusetts Bay Transportation Authority (MBTA) bus.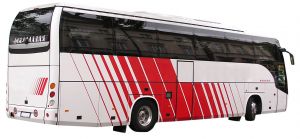 Camera footage shows a car traveling down a divided road at a high rate of speed when the driver crosses over the double yellow lines. After driving on the wrong side of the road for approximately 50 feet, the car collides into a city transit bus. The front end of the car is destroyed, and, with smoke coming the hood, the car eventually comes to a stop on the sidewalk.
Of the 37 passengers on the bus, 20 of them are reported to have suffered injuries. The injuries are primarily to the head and neck area and are not reported to be life threatening.

Police stated that the driver of the car was arrested on suspicion of operating under the influence (OUI) of drugs. This was not the man's first alcohol or drug-related arrest. It is being reported that the driver had been given citations for drunk driving on at least two prior occasions, one of which resulted in a conviction. He also had his license suspended previously for multiple violations and was required to have an alcohol interlock in his vehicle.
A vehicle interlock device is essentially a breathalyzer attached to your car that you must blow into and have a zero blood alcohol content (BAC) to start the car. You also need to blow into the interlock at all stops and various random times when prompted to do so. This technology can help, but there are many ways to "fool" the machine. There have been cases where drivers have their children ride with them and blow into the interlock. The interlock also doesn't prevent someone from driving while on drugs, as was the allegation here.
If you are ever in an accident while riding a bus, make sure you report your injuries to authorities and the company as soon as possible, so there will be documentation to support your claim. You should also never refuse medical attention. It is better to be on the safe side and go to the hospital when asked by paramedics. This will also provide helpful records that your Boston bus accident attorney can use when handling your case.
In a car accident involving a city transit bus, there is a high likelihood that everything will be recorded. Modern city busses have cameras that record everything that happens both inside and outside the bus. Some modern city busses have over 10 cameras onboard.
If you are injured in an accident in Massachusetts, call Jeffrey Glassman Injury Lawyers for a free and confidential appointment: (617) 777-7777.
Additional Resources:
20 hurt as MBTA bus, car collide in Randolph, August 11, 2014, Boston Globe
More Blog Entries:
Motorist Injured in Accident with Train at Medford Crossing, August 17, 2012, Boston Car Accident Lawyer Blog