According to Boston.com, the Callahan Tunnel was shut down on December 23 so that the 2,800 wall panels in the tunnel could be inspected. The shut-down was necessary after one of the wall panels in the tunnel fell into the roadway on the prior Friday night, tying up traffic for several hours. An administrator employed by the Massachusetts Department of Transportation indicated that the plan was to physically yank on each of the wall panels.
Our Boston car accident attorneys are concerned that more incidents like the falling wall panel may be likely in upcoming years as the infrastructure within the city ages. In this case, the problem in the tunnel only tied up traffic, but future incidents could be much worse if tunnels, bridges or roads fail in a way that causes a car wreck.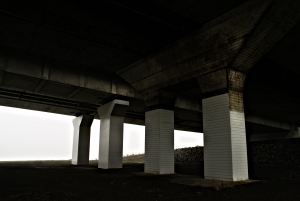 Aging Infrastructure Increases Auto Accident Risk
The Callahan Tunnel was constructed during the 1950s, as were many roads, bridges and tunnels in Boston and throughout the United State. The tunnel is scheduled to be refurbished in 2014 at a cost of approximately $10 to $12 million. Other similar projects are also necessary or scheduled as Massachusetts and other states work towards refurbishing and rebuilding old and aging infrastructure.
The recent incident with the falling panels illustrates just how necessary revitalization is. The panels weigh approximately 100 pounds each and are 4 feet by 9 feet. They were installed in 1990 and are inspected approximately once every three months. Unfortunately, the metal fasteners on some of the panels are rotting and it was likely this rotting that led to the panel falling in December. After the panel fell, one adjacent panel was left hanging by a single fastener and was removed, as were two other nearby panels as a precaution.
The panel did not hit any cars or injure anyone, but there was the potential that it could have. A falling panel could also be a distraction to drivers and increase the risk of an auto accident occurring.
Who is Responsible When An Accident Happens?
If an accident happens as a result of improperly maintained bridges, tunnels or roadways that are aging, those involved in the accident may be able to take legal action against the entity responsible for maintenance. Unfortunately, in many cases, this is a government agency.
Government agencies can be sued and made to pay damages, but they enjoy limited governmental immunity protections. This means that it is harder to bring a claim against the government than it would be against a private property owner that failed to maintain his or her property and that put others at risk.
Those who suffer an injury as a result of aging bridges, tunnels, roads or other infrastructure that becomes dangerous will, therefore, have an uphill battle on their hands to take legal action. Still, it is possible to collect compensation for damages including medical costs, lost wages and non-economic loss such as pain and suffering and emotional distress. You will need to work with an attorney who has experience representing clients in claims against the government for poor road, bridge, tunnel or infrastructure maintenance.

If you or a loved one has been injured or killed in a car accident, contact Jeffrey S. Glassman for a free and confidential consultation to discuss your rights. Call (617) 777-7777.
Additional Resources
DUI and Holiday Accident Fatalities in Boston, Boston Car Accident Lawyer Blog, December 1, 2012