According to a recent article from the Boston Globe, a bicyclist was killed after being hit by a dump truck. Authorities report the victim was riding his bike in the westbound lane of a crowded street when he attempted to make a left turn.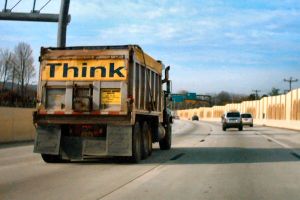 During the left turn, the victim crossed over into the opposing lane of traffic and collided with the dump truck. After hitting the truck, he lost control of the bicycle and hit a utility pole.
The victim was taken to a local trauma center, where he was pronounced dead from his injuries. It appears that the truck driver was operating within the posted speed limit. An accident reconstruction specialist is taking part in the police investigation, but the police, as of this point, do not intend to press charges against the truck driver.

Our Boston bicycle accident attorneys know people often think they don't have a case if police don't press charges against the other driver. While the facts of every situation are different, many times the responding officer will issue a citation to the bicyclist or not issue a citation to anyone involved, even when the driver of the car or truck was the at-fault driver.
On of the common examples of when the police will mistakenly blame the rider of a bicycle involves what is known as "dooring." If the occupant of a car opens his or her door without checking to see if anyone is coming, and a bike rider crashes into the car, the fault lies with the person who opened the door.
When a bicyclist hits a car door at full speed, it can cause significant personal injury, including head trauma that may result in a traumatic brain injury (TBI).
However, police often times will say the cyclist was at fault for crashing into the car. It is for this reason that it's important to speak with an attorney who regularly handles these types of cases before just assuming the police report is correct.
A dooring case can be even more complicated when the person opening the door was a passenger in a taxicab. There is a question at this point whether the cab driver, the passenger, or both are negligent and liable to the plaintiff for injuries caused.
In order to try to answer this question, an accident reconstruction expert working with your bicycle accident lawyer will investigate the circumstances surrounding the accident. One relevant fact, assuming the accident happened on the driver's side of the taxi, would be why the passenger was getting out on that side. If the cab driver stopped in a way that the required exit on that side of the taxi, this could be used as evidence that the cab driver, and more importantly, the cab company, is liable to the plaintiff for his or her injuries.
If you are injured in an accident in Boston, call Jeffrey Glassman Injury Lawyers for a free and confidential appointment: (617) 777-7777.
Additional Resources:
Wrentham bicyclist killed in accident, September 18, 2014, The Boston Globe
More Blog Entries:
Estate of Edmund M. Carman v. Tinkes: On Motions for Summary Judgment, August 14, 2014, Boston Car Accident Lawyer Blog