A recent news article from CBS Boston involves a Massachusetts bicycle accident that occurred between a female cyclists and the driver of a beer delivery truck in Cambridge.
A witness who recorded the aftermath of the crash on his phone stated that the accident occurred when a semi tractor-trailer was attempting to make a right turn off Massachusetts Avenue when it allegedly struck the woman riding her bicycle.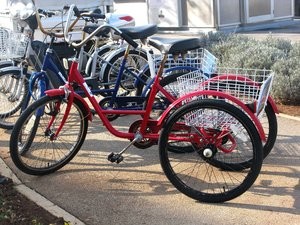 The bicycle, along with its rider, became stuck between the front two sets of wheels on the truck as she slipped under the side of the large commercial vehicle. Her bike was crushed in the accident.  One witness said that just seeing a bike slide underneath a truck and get crushed as this one did was terrifying and "overwhelming."
When witnesses called 911, first responders rushed to the scene of this Cambridge bicycle accident and provided the victim with immediate medical attention.  She was then taken to a local level one trauma center, but fortunately, here injuries were not believed to be life threatening.
One of the witnesses to this scary accident is the executive director of a local group known as the Boston Cyclists Union that advocates on behalf of bike riders and their interests in the greater Boston area.  While being interviewed for this article, and on the video he filmed, he discussed how this Cambridge bike accident could have been avoided, or made less serious, had the truck and trailer possessed a properly installed side guard.  This is not the first time truck side guards have become a big issue following an accident involving a bicycle and a truck.
For those who have never seen a truck side guard, which is possible because far too few vehicles possess them, it is essentially a railing or fence that is installed between the large wheels of a truck.  On a box truck, the side guard can be installed on the truck, and on a semi tractor trailer, the side guard would be installed on the vehicle's trailer.  The side guard is designed to act as a physical barrier to prevent pedestrians, motorcycles, and bicycles from going under a truck in the event of an accident.  If person or cyclist goes under the side of truck, there is a high possibility of being run over by the large commercial wheels, which is often deadly.
The guards can be a metal fence constructed of bars welded together, or it can be a solid barrier.  These barriers can be added to virtually any truck on the road and have been shown to seriously reduce the number of fatalities.  The makers of these devices also claim that they reduce airflow under the truck, which will improve fuel economy as an added bonus.
While these devices are required in Japan, the European Union, and other nations, they are not required equipment in the United States as of this time.  State and local governments can recommend that all trucks use these side guards, but they cannot make it a requirement, because Congress has the power to regulate commerce, and this would likely be seen as unconstitutional for any local government to make them a requirement.
If you are injured in an accident in Massachusetts, call Jeffrey Glassman Injury Lawyers for a free and confidential appointment — (617) 777-7777.
Additional Resources
Bicyclist Struck By Truck During Morning Commute In Cambridge, May 12, 2016, CBS Boston, By News Desk
More Blog Entries:
Head-on Collision Caught on Camera in Newton, April 13, 2016, Boston Prom Accident Lawyer Blog