Pedestrian fatalities are a real risk throughout New England, but nowhere are walkers at greater risk than the City of Boston.
Traffic is getting crazy out there and drivers don't care if you're in another car, if you're on a motorcycle or if you're on your own two feet. Drivers aren't paying attention to what's going on around them or even to road laws. That's one of the main reasons why the number of pedestrian fatalities has increased significantly in recent years, despite the overall decrease in the number of traffic fatalities.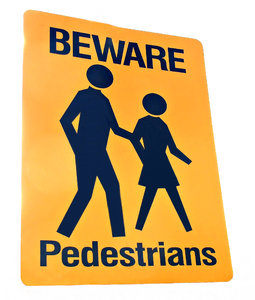 There were nearly 33,000 people who were killed in traffic accidents in the U.S. in 2010, according to the most recent statistics from the National Highway Traffic Safety Administration (NHTSA). More than 4,250, or close to 15 percent, of these fatalities were of pedestrians. That means that a pedestrian was killed in a traffic accident every two hours and another one was injured every eight minutes.
Our Boston accident lawyers understand how popular walking is in the state of Massachusetts, especially within Boston. At least once a day, everyone is a pedestrian. We rely on buses, trains, cabs and subways to help us to our destinations, but ultimately we rely on our own two feet to get us to where we need to go.
In 2010, there were nearly 100 pedestrians killed in traffic accidents in Boston. Every year, there are more than 1,150 pedestrians taken to the hospital after an accident with a motor vehicle. While we may not have made it on the list of one of the most dangerous states in the nation, we definitely didn't make it on the list as one of the safest.
About 90 percent of the pedestrian accidents recorded in 2010 happened when the weather was just fine, meaning there was no bad weather to blame. Some may have blamed the light, or lack thereof, as about two-thirds of pedestrian fatalities happened at night, according to The Washington Post.
Alcohol is nothing to brag about. In fact, intoxicated drivers were a factor in close to 15 percent of pedestrian fatalities and intoxicated pedestrians were involved in close to 35 percent of pedestrian deaths.
The Boston Public Health Commission (BPHC) is asking pedestrians to pay more attention to their surroundings when walking along our streets.
According to a recent study, little more than 10 percent of pedestrians wait for the "Walk" signal before they attempt to cross the street.
About a third of all observed pedestrians jaywalk, meaning they cross at least 5 feet from a crosswalk.
About 95 percent of drivers yield to pedestrians when pedestrians have the right of way, only about 50 percent of drivers yielded to pedestrians who were crossing against the light. Even fewer drivers slowed down for jaywalkers.

If you have been injured in a pedestrian accident, contact Attorney Jeffrey S. Glassman for a free and confidential consultation to discuss your case. Call (617) 777-7777.

Additional Resources:
Pedestrian deaths are on the rise again. But why?, by Brad Plumer, The Washington Post
More Blog Entries:
Mother Killed Pushing Stroller in Boston Pedestrian Accident, Boston Car Accident Lawyer Blog, July 30, 2012
NeighborWalk Logs More Time for Healthy Residents!, Boston Car Accident Lawyer Blog, July 15, 2012