A fiery Boston trucking accident shut down Route 1 after a gasoline tanker truck crashed and exploded in a fireball this past weekend. The accident triggered a number of smaller explosions that sent fire shooting towards local businesses and homes. The truck driver was killed in the accident.
The explosions happened after the overturned tanker spilled about 11,000 gallons of fuel spilled near a drainage ditch. The gas was then ignited and flames were carried down a brook that runs near the highway. The fiery explosion set a home and two greenhouse buildings on fire.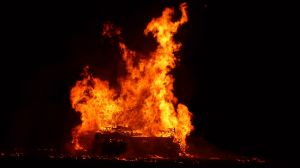 Our Boston trucking accident attorneys recognize the potential dangers that come along with these large, commercial vehicles on our roadways. Many of them carry dangerous substances as cargo. Oftentimes, accidents with these big rigs can turn deadly. It is important for both truck drivers and passenger-vehicle motorists to be cautious on our roadways, especially during the summer months when the amount of traffic increases significantly.
Nearby residents say they heard the load crash and were later warned to evacuate their house.
The 59-year-old driver of the large truck died on scene, according to state police spokesman David Procopio. Four other motorists were hurt trying to avoid the accident, according to Boston.com. One was taken to a local hospital and treated for severe burn injuries.
Police are still investigating what exactly caused the tanker to travel through the median and roll over onto its side.
More than 100 people from local neighborhoods were forced to evacuate, but were later allowed to return to their homes several hours after the incident.
A number of traffic lanes were closed because of the accident as police checked the area for potential hazards and a nearby bridge for structural damage. They were also reportedly checking a nearby fast-food restaurant's gas lines as they were apparently ruptured from the explosion.
According to the National Highway Traffic Safety Administration, there were about 300,000 large trucks that were involved in traffic accidents in the United States in 2008. Of these accidents, more than 4,000 resulted in death. Nearly 4,500 people were killed in the accidents. These fatalities accounted for more than 10 percent of all reported traffic fatalities for the entire year. This means that one out of every nine traffic fatalities that year happened in 2008 happened in an accident that involved a large truck. Another 90,000 people were injured in these crashes.
Of the nearly 4,500 fatalities, 74 percent of them occurred to the occupants of the passenger-vehicle, 10 percent were nonoccupants and 16 percent happened to the occupants of the large truck.
In 2008 alone, Massachusetts saw nearly 500 vehicles become involved in a deadly accident that involved a large truck.

If you or your child has been involved in a car or a trucking accident, contact our Boston injury lawyers at The Law Offices on Jeffrey S. Glassman for a free confidential consultation to discuss your rights. Call 877-617-5333 or contact us through the website.
Additional Resources:
Gas tanker truck explodes into fireball in Mass., sets 3 buildings on fire; 1 dead, 4 hurt, by Jay Lindsay, Chicago Tribune
More Blog Entries:
Data Recorders could reduce risk of Massachusetts trucking accidents, Boston Personal Injury Attorney Blog, February 15, 2011
Distracted driving laws aim to prevent Massachusetts truck and bus accidents, traffic accidents by employees on the job, Boston Personal Injury Attorney Blog, October 11, 2010