A Boston car accident ended when a vehicle drove off a retaining wall last week. That's not all. Before taking a 15-foot drop off the wall, the two teen occupants of the vehicle ran over a construction workers leg, according to 7 News.
"The car is a total and the damage…is unrepairable. It's a total wreck," said Kevin Bearde, the tow truck owner.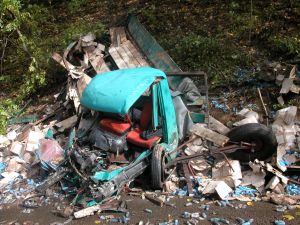 Our Massachusetts car accident attorneys are glad to report that the teen occupants are okay despite extensive damage to the vehicle. The construction worker was taken to Boston Medical Center with a broken leg. The young drivers are now facing charges of assault and battery with a dangerous weapon.
We all know that teen drivers possess much less experience behind the wheel than you and I. For this reason, it is not only important to be thoroughly involved in the driving education process, but to also step in when picking out their first vehicle. The following tips will help you through the process.
Is it better to buy a new or a used vehicle?
You're almost always better off purchasing a used vehicle over a new one. If you buy a certified pre-owned car you will still be able to enjoy the benefits of new-car like warranty, and perhaps, better financing rates.
"A first time driver doesn't need a new car, but of course they want one," says Lori Mackey, president of Prosperity4Kids. "The depreciation, probability of fender benders and the price tag [means new] is not the most logical way to go."
Yes, brand new cars will come with the latest safety features, but late-model vehicles will also come with airbags, anti-lock brakes and electronic stability control. Late-model vehicles will also be more realistic when it comes to power and performance features. It's important to put your teen driver in a vehicle they can handle.
"I see these young, inexperienced drivers in Mustangs, BMWs, and large SUVs. These automobiles are big, powerful and difficult to control for even experienced drivers. In the hands of a new driver, they can be deadly weapons," says LeeAnn Shattuck, co-owner and chief car chick with Women's Automotive Solutions.
Which car is safest for me teen?
Once you've figured out whether you're going to go new or used, it's not time to figure out which type of vehicle you're going to go with. It's important that you review safety and crash-test information. This information can be found on the National Highway Traffic Safety Administration and the Insurance Institute for Highway Safety websites. At this point in the game it's important for you to look at a vehicle's reliability and quality rating.
"Choose a car with a responsive chassis — one with good handling, quick steering and great brakes — that takes advantage of a teen driver's naturally quick reaction skills," advises Gritzinger.
Tiny cars typically come at a cheaper price, but smaller cars can be problematic. The smaller the car, the less likely it is to protect passengers in the event of a traffic accident.
"Your teen is safest in a mid-sized sedan with a four cylinder engine, airbags and a good crash test rating," says Shattuck.
Take your time. Picking the perfect car should be no quick process.
Picking out a vehicle, for anyone, takes a lot of work and research. Get out there and test drive potential purchases. Check out Kelley Blue Book and Edmunds.com for pricing information,
"Don't feel you have to buy the first car you see," says Nerad.
Keeping them safe behind the wheel.
Discuss the importance of safe driving habits with your teen. Inform them about the potentially deadly consequences of poor driving habits. Make sure your teen understands all of the rules of the road. Try creating a parent-teen contract to help enforce these rules and to hold your teen accountable for their driving habits.
"Having a car is not a birthright," says Gail Cunningham, spokesperson for the National Foundation for Credit Counseling, who raised four children. "Today's teens seem to think that they should have a car waiting for them in the driveway when they return home from the Motor Vehicle Department with their driver's license. If that's right for your family, fine. But don't be held hostage to peer pressure, and by that I mean from other families who are buying their teen a car.

If you or your teen has been involved in a car accident, contact our Boston injury lawyers at The Law Offices on Jeffrey S. Glassman for a free confidential consultation to discuss your rights. Call 877-617-5333 or contact us through the website.
Additional Resources:
Buying Your Teenager's First Car: What You Need to Know, by Sheryl Nance-Nash, Daily Finance:
More Blog Entries:
Single-Car Accident in Massachusetts Kills Teen Driver, Boston Car Accident Lawyer Blog, July 10, 2011
AAA Offers Teen Driving Info in Massachusetts to Reduce Number of Teen Car Accidents in Boston, Boston Car Accident Lawyer Blog, June 16, 2011