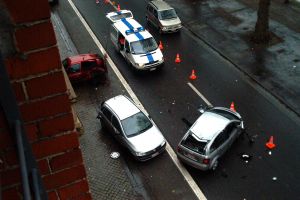 According to a recent story in the Boston Herald, a car containing three people crashed into a Boston Fire Department station located in the Charlestown neighborhood of the city. Emergency personnel were able to quickly respond to the vehicle and transport the three occupants to a local hospital. Two of the people in the car were reported as being in life-threatening condition due to their substantial injuries.
The vehicle reportedly hit a gas pump located at the fire station. The pump was damaged but, luckily, there was not a gasoline leak that could have caused an explosion or fire. Firefighters used the Jaws of Life to cut the victims out of the car. Authorities have not released a cause of the accident.
Our Boston car accident attorneys understand that a single-vehicle accident caused by a negligent driver may result in serious personal injuries to passengers. These injured passengers may be required to file a personal injury claim against the driver.

As your car accident lawyer can explain, collisions involving a single vehicle often require that an injured passenger to file a claim against the driver's insurance company. It is important to remember that the only reason you would be forced to file a lawsuit against a good friend is because your friend's insurance company is likely far more interested in their annual profits than whether you receive a full and fair compensation for your injury.
The question at issue is whether or not your friend was negligent while driving the car. There is no question that a driver owes a duty of care to protect foreseeable persons from foreseeable harm. The zone of foreseeability, as the law calls it, definitely includes passengers in the car.
The duty of care can be breached in many ways. Sometimes the driver will breach his duty by drinking and driving. Other times it will be from texting and driving. The important thing to know is that, if you have been hurt while riding in a car, and the accident was someone else's fault, you should contact a Boston car accident lawyer. Your friend's insurance company will call you in an attempt to get you to accept a settlement, which will require you to sign a waiver excusing them for any liability for your injuries. They may even offer an embarrassingly small amount of money, before you even know the extent of your injuries.
If you are injured in an accident in Massachusetts, call Jeffrey Glassman Injury Lawyers for a free and confidential appointment: (617) 777-7777.
Additional Resources:
Two hurt in crash in front of Charlestown fire station, July 19, 2014, Boston Herald
More Blog Entries:
The High Cost of Car Accidents, June 4, 2014, Boston Car Accident Lawyers Blog