A man who was fortunate enough to survive a rollover accident on the Massachusetts Turnpike was unfortunately hit and severely injured by a passing vehicle while crawling from his vehicle in search of help. According to JEMS, he was just one of a number people who were injured in this multi-vehicle accident that happened just before 5:00 a.m. It happened by the Oxford-Charlton line, just two miles from the Auburn exit. The collisions caused serious delays on the highway.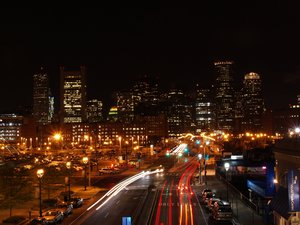 It started when a pickup truck drove into the median and flipped over, landing in the center lane. Both the 26-year-old driver and his 25-year-old passenger were able to escape the upside down truck. An oncoming passenger car passed the pickup on the right just before the tractor-trailer passed and hit one of the men. The driver was taken to the UMass Memorial Medical Center and treated for life-threatening injuries. The passenger of the vehicle wasn't hit by any passing vehicles, but did sustain injuries from the rollover accident. He was also taken to UMass Memorial.
The tractor-trailer then slammed into a sedan that has just passed the wreckage. Both the driver of the sedan and his passenger suffered serious injuries and were also taken to UMass Memorial. The tractor-trailer came to a final rest along the median's guardrail, after hitting both the sedan and the pickup in the Oxford traffic accident.

The initial cause of a multi-car pileup can precipitate from a single negligent or careless action of one driver. Many times the reason can be a seemingly harmless event. Stories abound of massive injury accidents happening because a driver sneezed, coughed, or put on sunglasses at just the wrong moment.
Because chain reaction accidents may involve many different drivers who were each acting carelessly (at least to some degree), bringing an insurance claim or personal injury lawsuit over these kinds of accidents may be challenging. Let's look at some of the different issues that may arise — especially when it comes to establishing fault — in traffic accident cases involving chain reaction collisions.
The potential for life-threatening injury is even greater when a car is rear-ended by a larger vehicle, like an SUV, van, or semi-truck. Because of the discrepancy in size, larger vehicles can rear-end cars above their bumpers, which are designed to absorb the jolt of impact.
It's critical to be aware of your surroundings when traveling on busy highways like the Massachusetts Turnpike.
If you or someone you love has been injured in an accident, contact Jeffrey S. Glassman for a free and confidential appointment to discuss your rights. Call 888-367-2900.
More Blog Entries:
Wrong Way Driver Blamed for Death of Malden High School Teen, Boston Car Accident Lawyer Blog, January 16, 2014
Resolving to be a Better Boston Driver in 2014, Boston Car Accident Lawyer Blog, January 10, 2014