Our Boston bicycle accident lawyers know that many steps have been taken to make the roads safer for bicyclists in the city of Boston, but that there are still some risk factors that put bike riders in danger. The Boston Globe lists these risk factors, including "cramped streets, crowded roadways, [and] a desperate need for parking spots that leaves little room for bike lanes."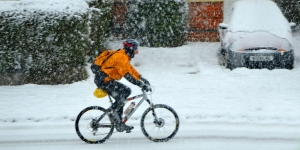 Yet, while these factors would seem to inherently make the roads unsafe, the Globe points out that these same conditions exist in one of the most bicycle friendly places in the world: the Netherlands. Bicycling among the Dutch is one of the most common ways to get around, as there are more bikes than people and 26 percent of commuting trips there are taken by bicycle. Yet, while there are many more people on bikes, the likelihood of being injured or killed in a bike accident is five times less than in the United States and is the lowest in the world.

Some U.S. officials and transportation safety engineers who are trying to make Boston's streets safer for bicyclists are now asking why there are so many fewer accidents among the Dutch and are increasingly looking to the Netherlands for ideas to improve bike safety at home.
Incorporating Dutch Ideas to Improve Bike Safety in Boston
In the Netherlands, there is infrastructure in place that makes clear the roads are designed for the safety of bicycle riders. This includes not just separate bike lanes on every major street; but also bike-specific traffic lights, bicycle highways and yield signs that remind motorists of the rights of bicycle riders.
The infrastructure in Boston doesn't match up to the bike-centric focus on roads in the Netherlands, but officials have done a lot to add bike lanes and improve conditions for riders in Boston in recent years. As the Boston Globe points out, American planners in Boston and other cities have begun to invest money to redesign roads to make them safer for bicyclists and to encourage more bike riding.
However, building bicycle infrastructure alone may not be enough, as the Dutch do much more than just provide safe spaces to ride. Bicycle safety education is an important part of the Dutch culture, which produces both better cyclists and motorists who are more "bike-aware."
Motorists and bike riders in the Netherlands become bike-aware because of universal bicycle education in school that helps kids to learn how to ride safely in traffic. Children learn how to ride while in school and by the time they are adults and obtain a driver's license, they've already used bicycle-riding as their primary means of transportation for years. Their own experiences with bike-riding also make these drivers much more likely to watch out for other bikers on the road.
The Dutch culture has not always been this bike friendly, as in 1967, Amsterdam's chief inspector of traffic police declared that cycling was "tantamount to attempting suicide." However, after years of deaths among pedestrians and bike riders, mandated car-free Sundays during the 1973 oil crisis resulted in motorists learning an appreciation for bike riding.
Added investments in infrastructure and education soon followed and, as many more people embraced biking as a method of commuting, momentum built for increasing the focus on bike safety. This has largely led to the bicyclist-safe streets that exist today.
This lesson is something that urban planners in Boston can learn from and those who are serious about improving bike safety in Boston need to not only work to help make more bike lanes, but also need to take steps to change the culture and attitudes towards bicycling as a transportation method.
If you or a loved one has been injured or killed in a traffic collision, contact Jeffrey S. Glassman for a free and confidential consultation to discuss your rights. Call (617) 777-7777 today!
More Blog Entries:


Teens Avoiding GDL Program Facing Higher Risks for Boston Accidents, Boston Car Accident Lawyer Blog, August 15, 2013