It was a bad weekend for car accidents in Massachusetts. There was a rollover car accident that killed a man in Danvers and another that injured a number of others in Revere. According to state police officers, speed was a contributing factor in the single-car accident in Danvers that killed a 30-year-old man from Peabody. The accident happened just before 7:30 p.m., when he slammed into a guardrail on Route 128. After hitting the guard rail, he swerved across two lanes of traffic, hit a jersey barrier, sped down the ramp in Route 35, striking two more barriers and flipping the car over onto its roof. The man was wearing his seat belt, but was pronounced dead at the scene of the accident. The passenger of that vehicle was transported to Massachusetts General Hospital with serious injuries. Officers are still investigating to determine whether alcohol played a role in this accident.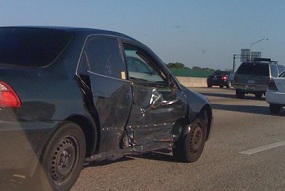 Just a few hours later, four motorists were involved in a two-car accident in Revere. The accident resulted in serious injuries to those involved. The accident happened just before 12 a.m. on Revere Street and American Legion.
That's not all. There were a number of additional accidents that occurred over the weekend, including a collision in Hyde Park that took the life of a 24-year-old. Four others were injured in this accident.
Motorists weren't the only ones hurt in accidents over the weekend. There are also three pedestrians injured after being hit by a car. A mom and her two children were struck by a passing vehicle in Winthrop as they made their way to a dialysis appointment. The pedestrians and the driver of that vehicle were all taken to Emerson Hospital. The two children were later transported to Children's Hospital in Boston.
Officers believe that the 76-year-old driver may have mistaken the gas pedal for the brake pedal. The investigation is ongoing.
The Massachusetts Department of Transportation (MassDOT) hears about thousands of car accidents that occur every year in the state. To help to get drivers on board to safer roadways, they've provided drivers with some safety tips to help to prevent traffic accidents.
Safe Driving Tips:
-Always be cautious of the traffic around you, including motor vehicles, pedestrians, bicyclists, motorcyclists, etc.
-Remember that turns are meant to be taken at reduced speeds.
-Always use your turn signals to alert other travelers of your intended maneuvers.
-Never eat or drink while driving.
-Remember to check intersecting streets for oncoming traffic before passing through.
-Maintain a safe following distance. Reducing the space between you and other travelers reduces the time that you have to react to potential dangers.
-Don't forget about your blind spots. Check over your shoulder to see what's going on in these areas.
-Yield to the right-of-way when necessary.
-Always wear your seat belt to help protect against injury and death in the event of an accident.

If you or someone in your family has been injured or killed in any type of traffic-related accident in Boston or anywhere in Massachusetts, contact Massachusetts Personal Injury Attorney Jeffrey S. Glassman for a free and confidential appointment to discuss your rights. Call (617) 777-7777.
More Blog Entries:
Boston Road Safety, Part 8: Speeding and Aggressive Driving, Boston Personal Injury Attorney Blog, February 8, 2011
New Year's Resolution to Help Curb Pedestrian Accidents in Boston, Boston Personal Injury Attorney Blog, January 13, 2012