Recently on our Boston Car Accidents Lawyers Blog we discussed the severity and dangers of careless teen driving. We will now look at the impact that teens and distracting driving have on the safety of everyone on the road.
According to The Boston Globe, 63 percent of teens admit to using their cell phones while driving, a proven factor in increasing the risk of Boston car accidents.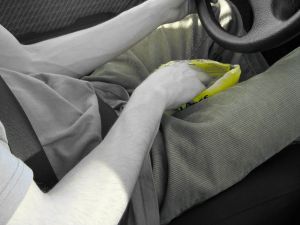 In 2009, nearly 6,000 people in Massachusetts and surrounding areas were killed as a result of distracted driving. Massachusetts has been in a six-year debate regarding our distracted driving laws. Twenty-eight states have put laws in effect banning texting while driving. Massachusetts' law went into effect on Sept. 30.
Distracted driving is not only defined as texting while driving. It also includes fiddling with a GPS, applying makeup, driving with multiple passengers, listening to loud music, and eating behind the wheel.
"Clearly, distracted driving is a problem," says Russ Rader, spokesman for the Insurance Institute for Highway Safety. "What is not clear is how best to address it,"

Tips to avoid distracted driving:
– Drink with a lid on your cup to avoid spillage.
– Park to eat or go inside.
– Keep safe driving as the top priority.
– Be well rested when driving.
– Don't store items on your lap or in between your legs.
– Silence/put away all electronic devices when in route.
– Use proper restraints for pets.
A two-page brochure by the U.S. Department of Transportation is available for you to download at www.distraction.gov.
"Behind the statistics are real families who have been devastated by these tragedies," says U.S. Transportation Secretary Ray LaHood.

If you've been involved in a car accident involving distracted driving, contact Boston personal injury lawyers at Jeffrey Glassman Injury Lawyers for a free and confidential consultation to discuss your rights. Call 877-617-5333 or contact us through the website.