Seniors in Massachusetts can land a discount on their auto insurance policy and reduce their risks of a car accident in Boston , according to the Massachusetts Department of Transportation (MassDOT). What we're talking about is the AARP Driver Safety Program.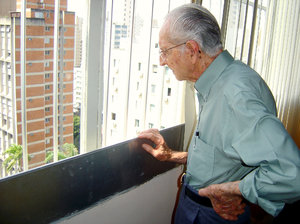 We're never too old to learn something new, no matter how long we've been behind the wheel. Drivers can always continue to learn, constantly improving skills and refining safe driving habits. Cars are built differently nowadays, often equipped with new technology, and roadway regulations are frequently updated by the Registry of Motor Vehicles. Through these safe driving courses, drivers can learn all about new driving information.
Driving is just not the same as it used to be. Our Boston car accident attorneys have noticed through the years the change in traffic volumes, the introduction of new road laws and the advancements in vehicle technology. It's important to stay on top of these advancements and changes, especially for older drivers, to help increase our safety behind the wheel. The AARP Driver Safety Program and AAA's Driver Quiz are both excellent ways to help us more mature drivers to stay safe at the wheel, especially when traveling on the hectic roadways of Boston.
It's important for drivers to keep themselves in good health and to stay flexible to continue driving safely. The AARP course will fill you in on some simple tips to do just that.
Not sure if the driving course is for you? While its targeted audience is in fact elderly drivers, all ages are invited to join. You can never be too prepared behind the wheel.
So what will the safe driving class teach me?
-You'll learn how to better handle your vehicle's blind spots.
-You will learn how to keep a safe distance between you and other vehicles.
-You'll learn all about your vehicle's capabilities, such as how to correctly use the seat belts and how the anti-lock brakes and other technologies are used.
-You will learn how to monitor your skills behind the wheel and how to recognize when you're in danger. You'll also be trained to help keep an eye on your aging loved ones, to make sure they're not putting themselves at risk behind the wheel.
-You will learn all about the side effects that your medications can cause and how those side effects can be dangerous to your driving.
-You will see how distractions can affect you behind the wheel.
Learning how to make your car fit you is another important lesson you'll take with you from this course. Even though senior drivers have the highest rate of seat belt use and the lowest percentage of alcohol-related crashes, this age group is more likely to be killed or seriously injured in the event of an accident. How can that be? It's simple. The older our bodies are, the less resilient they are in withstanding the impact of a car accident. For that reason, the course offers tips to help seniors to better "fit" their car.
No matter what your age, no matter what you driving record is and no matter how comfortable you feel behind the wheel, everyone can benefit from a safe driving course. Keep your driving skills in shape and keep your risks for an accident low. Sign up for a safe driving course (even if it's just for the insurance discount).

If you or someone in your family has been injured or killed in a car accident in Massachusetts, contact Boston Injury Attorney Jeffrey S. Glassman. Our firm offers free and confidential appointments to discuss your rights. Call 877-617-5333.
More Blog Entries:
Deadly Weekend for Car Accidents in Massachusetts, Boston Car Accident Lawyer Blog, February 12, 2012
Safe Vehicles Mean Fewer Boston Car Accidents, Boston Car Accident Lawyer Blog, February 5, 2012