According to a recent news article from ESPN, Max Holloway, a defensive lineman on the Boston College football team several years ago, was recently killed in a car accident.  Holloway was the son of former NFL athlete, Brian Holloway, who played six seasons for the New England Patriots in the 1980s. He was 26 years old at the time of his death.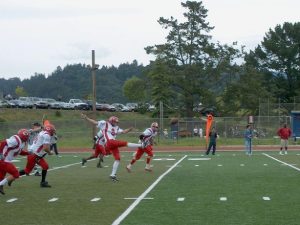 Authorities have said the accident, which occurred around 2:30 a.m., resulted in Holloway's death when his slammed into a telephone pole and then flipped into the area and ended up crashing through a closed garage door of a house near the utility pole.  The police are still investigating the cause of this fatal car accident and have not offered any more information. During his time at Boston college, he was credited with nearly 100 tackles and seven sacks, as well as some forced fumbles and an interception. He left Boston College to go the 2011 NFL draft, but he was not selected.  He then went to the Canadian Football League (CFL), where he was selected by a team and did play in some games.
Single car accidents in which the victim was killed can be among the most challenging types of cases.  For this reason, if your loved one was killed in a single car accident, you want to speak with an experienced Boston car accident lawyer as soon as possible to see if you have a case.  While it might seem like it has to be the victim's fault, since there were no other cars involved in the crash, this is not always the case.
In some cases, another driver may be at fault but left the scene prior to the police showing up.  This is not the same situation as a hit-and-run.  In a hit-and-run, the other driver crashes into another car or even a pedestrian and then flees the scene of the collision.  This is not the same situation, because it is clearly at least a two-car accident.
In the single car crash caused by the fault of another driver, we often see cases where one driver will fail to stay in his or her lane, causing another driver to take evasive action, and that evasive action can result in a crash.  The driver who caused the crash might have been oblivious to the accident or believe that he or she is not responsible.  One common reason this can happen is when cars are going through a lane shift in an intersection or around a construction area.  This is where all of the lanes shift over, and you are required to travel within your own lane even as it moves to the left or right.  Some people end up going straight or merge into another lane in an unsafe manner, and this can result in a serious car accident. However, it should be noted that every situation is different, so you should speak with your attorney about the facts of your particular case.
If you are injured in an accident in Massachusetts, call Jeffrey Glassman Injury Lawyers for a free and confidential appointment — (617) 777-7777.
Former Boston College DE Max Holloway, 26, dies in car crash, October 27, 2016, ESPN
More Blog Entries:
Report: Fall River Teen Killed in Car Crash on Way to Prom, June 26, 2016, Boston Car Accident Injury Lawyer Blog