Wet weather and speeding are believed to have both played a role in a mid-morning I-95 Boston car accident last week that claimed the life of 32-year-old Hyde Park man, the Boston Herald reports.
The 1993 Infiniti crashed into a concrete barrier which caused the car to flip before coming to rest between two unoccupied toll booths. Law enforcement indicated the vehicle did not slow before entering the pay lane. The driver was extracted from the vehicle and taken to Exeter Hospital, where he died. There has been speculation that a medical condition may have been a factor in the crash.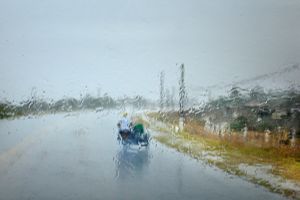 Slippery roads, whether wet with rain, snow or ice, can make driving more dangerous than usual. The Massachusetts Department of Transportation offers the below list of tips and precautions for drivers to consider as cooler weather and the winter season arrives, bringing with it less favorable driving conditions.
IN THE EVENT OF SLIPPERY ROAD CONDITIONS:
~ Before you head out, know the current road and weather conditions. Dialing 511 from your cell phone will provide you with the latest updates. With that said, once behind the wheel: pay attention, drive cautiously and defensively, and use your brakes carefully. Leave plenty of room for stopping.
~ Before you back out of your driveway, clear all snow and ice from your vehicle.
~ Remember that bridges and overpass sections freeze before other stretches of roadway and that exit and entrance ramps may be more difficult to navigate than straight-aways.
~ In rain or snow don't use cruise control and look further ahead and around than when driving in clear conditions. Turn on your lights to enhance visibility.
~ Give snow plows and maintenance vehicles a wide berth and never pass them on the right side.
IN THE EVENT OF A STRANDING:
~ Keep a first-aid kit, some bottled water and non-perishable snacks, and a change of warm clothes in your trunk.
~ Stay in your vehicle and stay calm.
~ Keep a window cracked to ensure access to fresh air and only run the engine intermittently.
~ If you can, call 911.

The Boston-area car accidents lawyers at Jeffrey Glassman Injury Lawyers, LLC know that being involved in a serious or fatal Massachusetts car accident can be among the most trying experiences of a lifetime. If you have been injured, or someone you love has been injured or killed in a Boston car accident and you are struggling to deal with medical bills, lost wages, rehabilitation schedules, property damage and insurance companies, we can help. You can schedule a free initial consultation, by contacting us online or calling our offices at (617) 777-7777 to discuss your rights.