After a fatal bike accident in cities across the United States, including Boston and Cambridge, mourners will typically leave what is know as a "ghost bike" around the area in which the accident occurred.  A ghost bike is a bicycle that is painted all white, and it is placed there so people will not forget that bicycle rider was killed.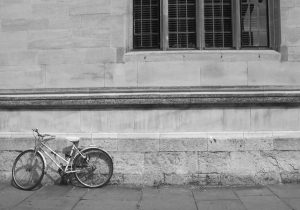 It is done in part as a memorial for the victim, and in part for all victims, so that public policy can change and new laws can be drafted and passed to provide more protection to the many bicycle riders who are trying to share the streets with cars and pedestrians. While many are okay with the ghost bikes being put on public property, since they are there for an important reason, some are now questioning how long they should be allowed to remain there, according to a recent news feature from Tree Hugger.
Some of these bikes will remain for more than a year, and in some cases, such as a recent one in Maryland, they have even been stolen or removed by someone who was not happy with the old bicycle being chained up in front of their property.  There are laws in place in many of these jurisdictions that require that any public memorial be removed after a month or so if there is not special permission granted to leave it in place, but it is not uncommon for them to remain much longer.
In some jurisdictions, they will allow them to stay until they receive complaints about the ghost bike from residents or people who frequent the area.  One bike safety advocate who was interviewed as part of the article said one that memorialized a friend of his was recently removed by the city, and when he turned the corner on his way to work and saw that ghost bike was no longer there, he had a sick feeling in his stomach, because he had drawn comfort from seeing the bike there on a regular basis.
It should be noted, while there is no question that more work is needed to make the streets safer for bike riders, there are already many laws on the books that, if followed, would prevent a great number of the Boston bike accidents that happen each year. One major example is when there is a bike only box in the front of an intersection, and cars do not respect that restrict and cut the corner of the box when making a left turn, or stopping in the box while waiting for a light.
If cars do this, it becomes very difficult for a bicycle rider to make a left turn or even travel straight through an intersection, and this has resulted in many accidents.  Another common moving violation that results in a lot of bike riders being seriously injured involves a practice known as "dooring."  This is where a driver of a passenger opens a door into traffic and a bike rider slams into the door that was opened in his or her path of travel.
If you are injured in an accident in Massachusetts, call Jeffrey Glassman Injury Lawyers for a free and confidential appointment — (617) 777-7777.
Additional Resources
How long should Ghost Bikes stay up on public property?, May 31, 2016, Tree Hugger, By Lloyd Alter
More Blog Entries:
Head-on Collision Caught on Camera in Newton, April 13, 2016, Boston Prom Accident Lawyer Blog