According to a recent news article from CBS Local Boston, a woman from Lynn, Massachusetts was just arrested for drunk driving after she allegedly crashed her vehicle into a fire truck in Wilmington in Middlesex County.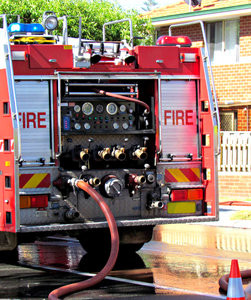 Authorities say the crash occurred just after noon on a Friday and the alleged at-fault driver was a 46-year-old woman. Obviously firefighters were already on the scene and were able to immediately respond to assist defendant. She was trapped under the fire truck and emergency personnel used the Jaws-of-Life to cut away the wreckage, so she could be freed from her destroyed vehicle. The fire truck suffered heavy damage to its front end from the crash and from the rescue effort.
The Middlesex County District Attorney said defendant has been charged with operating a motor vehicle under the influence of intoxicating liquor (OUI), negligent operation of a motor vehicle, and possession of an open container of alcohol in a motor vehicle, and was given a civil motor vehicle infraction citation for a marked lanes violation.
Authorities say they immediately suspected defendant of being under the influence of alcohol when they approached her vehicle, which at the time was pinned under the front of end of their fire truck. After using the Jaws-of-Life to get her out of the vehicle safely, they assessed her condition and determined she was luckily not injured in what could have a been a very serious car accident. They then performed a series of standardized field sobriety tests, which they allegedly determined she had failed.
Authorities then administered a breath test to determine her blood alcohol concentration (BAC), and she allegedly blew a 0.19 on instrument. She was taken to jail and released on $250 cash bail and was given a court date in September. It is important to note defendant has not been convicted of any crime in connection with her recent arrest and is presumed innocent unless and until she is found guilty beyond a reasonable doubt in a court of law.
As our Boston drunk driving accident attorneys can explain, the legal limit for the consumption of alcohol when driving a motor vehicle is 0.08 grams of ethanol per 100 milliliters of blood. At this level, the National Highway Traffic Safety Administration (NHTSA) estimates a driver will have a delayed reaction time, trouble with hand eye coordination, somewhat blurred vision, dizziness, and other symptom of intoxication, which can make it incredibly dangerous to drive a car. As the alcohol level rises, there will be additional symptoms making it even more difficult to drive a car safely or even function as a human being. As some point, once the blood alcohol level is above a 0.30, there will be substantial impairment, respiratory and heart issues, and death is possible. Anything above a BAC of 0.35 and death is likely to occur.
In the case of a person driving with a BAC of around .19 or .20, this is more than twice the legal limit in the Commonwealth of Massachusetts. Someone driving a motor vehicle with this level of intoxication is significantly more likely to cause a serious or fatal car accident than a driver who is sober
If you are injured in an accident in Boston, call Jeffrey Glassman Injury Lawyers for a free and confidential appointment: (617) 777-7777.
Additional Resources:
Woman Pleads Not Guilty To Drunk Driving Charges In Wilmington, July 3, 2015, CBS Local Boston
More Blog Entries:
Estate of Edmund M. Carman v. Tinkes: On Motions for Summary Judgment, August 14, 2014, Boston Car Accident Lawyer Blog