A recent motorcycle accident in Massachusetts at 315 Derry Road took the life of a 50-year-old Londonderry man. The accident happened as a Ford Mustang was reversing out of an industrial complex and struck the passing motorcyclist, according to the Nashua Telegraph.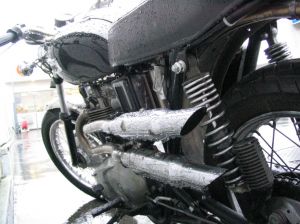 The man was airlifted to a local hospital where he was later pronounced dead. The driver of the Mustang was not injured in the accident. No charges have been filed but officials are still investigating the accident.
Our Boston motorcycle accident attorneys understand how many accidents occur simply because motorists overlook motorcyclists on our roadways. These riders are oftentimes overlooked because of a driver's lack of focus. Motorcyclists follow the same laws of the road as you and I, and they should be treated with the same respect. Accidents involving a motorcycle oftentimes end fatally because the rider lacks personal safety protection.
According to statistics from the Fatality Analysis Reporting System (FARS), there were nearly 37,500 people killed in traffic-related accidents in the U.S. in 2008. During the same time, there were nearly 400 lives lost in these same scenarios in the state of Massachusetts. While these statistics illustrate more than a 15 percent decrease from the previous year, our state still has a long way to go to make our roadways safe for everyone.

Traffic-related fatalities statistics in Massachusetts for 2008:
-More than 40 motorcyclists were killed. Riders age 50 to 59 years old accounted for a majority of these fatalities.
-Nearly 80 pedestrians were killed.
-Nearly 200 fatalities occurred from accidents involving an alcohol-impaired driver.
-About 20 fatalities accounted for the rest of the accidents involving a large truck.
Most of the accidents that happened from 2006 to 2008 occurred in Worcester and Middlesex counties. When we break down the information into the percentage of accidents based on a county's population, Franklin and Berkshire counties had the highest fatal accident percentages in 2008.
Motorists are asked to check for motorcyclists, especially when making turns, changing lanes and reversing. Never share a lane with a motorcycle and never follow too closely. Motorcycles operate much different than our passenger vehicles and drivers should adjust their skills and habits to accommodate these riders. They shouldn't be treated any differently on our roadways just because their vehicles are smaller. Driver compassion may be one of the most beneficial precautions we can exercise to help save these vulnerable motorists. These accidents are in fact preventable.
With no doors, no trunk, no engine and clearly no airbags, motorcyclists are at extremely high risks for injury and death in the event of an accident on our roadways. Motorcycle accidents account for nearly 10 percent of all traffic accident deaths in our state. You're more than 15 times more likely to die in an accident on a motorcycle than in a passenger vehicle.

If you or someone you love has been injured in a motorcycle accident in Massachusetts, contact our Boston injury lawyers at Jeffrey Glassman Injury Lawyers for a free confidential consultation to discuss your rights. Call 877-617-5333 or contact us through the website.
More Blog Entries:
Man Killed in Motorcycle Accident in Danvers, Boston Personal Injury Attorney Blog, September 13, 2011
Boston road rage a big city danger; common cause of Massachusetts car accidents, Boston Personal Injury Attorney Blog, March 18, 2011