While many traffic collisions are caused by the negligence of other drivers on the road, some are caused by a hazardous situation on the road that could have been prevented. In a recent news article from WHNT, a man was killed when his car hit a horse that was walking on the road.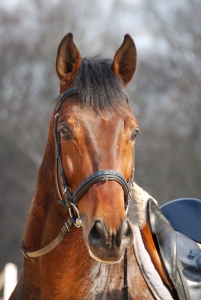 Authorities said victim was driving his friend to a local hospital. This friend, who was his passenger, had been in another car accident earlier that day and was on her way to visit another occupant of that car who had been in the hospital following the earlier crash. During this late night ride to the hospital, victim hit the horse and died at the scene of the accident.

As our Boston auto accident lawyers can explain, just because we tend to think of some accidents as freak occurrences that are not anyone's fault, it is possible many of these incidents could have been prevented had it not been for another party's negligent conduct.
Obviously, it is not very common for a car in Boston to hit a horse, but there are many man-made hazards that cause accidents. It should be noted that, in the case of a horse or other farm animal, the law in the Commonwealth of Massachusetts creates strict liability for any damages caused by livestock that has escaped from an owner's land. In other words, if someone's horse, cow, or other farm animal gets loose and causes an accident, it is presumed as a matter of law that the owner was negligent in causing the accident. It will only be necessary to prove an amount of damages in order to recover in many of these situations.
There are many car accidents in Massachusetts caused by road hazards as a result of someone else's negligence. One typical example we see is when a rear outside tire (dually) on an 18-wheeler comes lose from the truck. In this situation, the driver will likely not know the tire fell off and will keep driving while the tire hits another car or causes a car swerving to avoid a tire to crash into other vehicles or run off the road. A truck tire, with or without a steel wheel, could easily cause a deadly accident.
While the driver may not be aware the tire fell off the truck, it is his or her responsibility to make sure all tires are properly secured as part of the Department of Transportation mandated pre-trip inspection prior to driving. If he or she failed to inspect the tire, and an accident occurs, that could be used as proof of negligence in a car accident lawsuit.
Another typical example would be objects in the road that were improperly secured in the beds of pickup trucks, tied to the roofs of cars, or on flatbed trucks. Whenever someone gets on the road, it that driver's responsibility to make sure the vehicle is safe condition and all cargo is properly secured.
If you are injured in an accident in Massachusetts, call Jeffrey Glassman Injury Lawyers for a free and confidential appointment: (617) 777-7777.
Additional Resources:

Franklin County Sheriff: Man dies in car accident involving a horse, December 5, 2014, WHNT 19
More Blog Entries:

Woman Run Over by Own Car at Massachusetts Hotel, June 26, 2014, Boston Car Accident Lawyer Blog