According to recent news report from WHDH, a car was traveling at such a high rate of speed in Arlington, Massachusetts on Route 2 it completely left the road surface, drove up an embankment, left the ground entirely, landed on a guardrail, and crashed on top of another vehicle traveling on the Pleasant Street Bridge.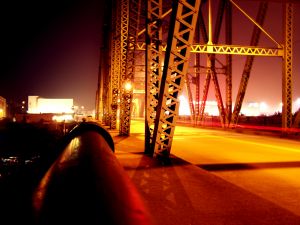 One Arlington Police officer said he had never seen a crash like this one is his entire 15 year career with the department. An accident reconstruction team was on scene to try to piece together what actually happened, and officers were tracing the assumed path of travel with their flashlights according to witnesses. Another police officer said every aspect of the crash from going airborne to landing on top of a guardrail, and then landing on another car was unbelievable.
The reason this accident was so unbelievable to officers is the car was traveling on a surface road 30 feet below the car on which it eventually landed. The car managed to go up the embankment and fly through the air for long enough to end up on the Pleasant Street Bridge above.

When officers and EMS responded, they were able to cut occupants out of both vehicles and take them to local hospitals. Their exact conditions have not been released, but officials say the victims suffered serious injuries as result of this incredible Massachusetts car accident.
While police have not yet completed their investigation or determine the exact cause of this tragic accident, they are assuming it was related to the high rate of speed of the vehicle traveling below the bridge.
In nearly any car accident lawsuit in the Commonwealth of Massachusetts, the legal theory on which a case is filed is known as negligence. The reason we say nearly every case is because there are cases where a person intentionally hits another with their car. While a plaintiff can still bring a case against someone who intentionally ran them over, the action is normally filed under a theory of tortious assault and battery. It should also be noted the driver will likely also be charged with a criminal offense when he or she intentionally hits someone with a motor vehicle.
In a more typical negligence-based car accident lawsuit, it is necessary to prove defendant operated his or her vehicle in way that showed some level of disregard for the safety of others. Some cases require extensive work by accident reconstruction specialists to show exactly what happened and how the conduct was negligent. This is important because even though we typically call these collisions "car accidents," an accident that is truly nobody's fault is not actionable in a court of law.
In other cases, it may be difficult to determine the exact cause of an accident, or the exact chain of events that lead to plaintiff being injured or killed. However, in some cases, it so clear that there must have been negligence on behalf of defendant or an accident would not have occurred. This might be when a car flies thirty feet up and lands on a bridge, but the example taught to law students involves a person walking by a piano factory and having a piano fall on them.
Obviously, someone must have engaged in negligent conduct at the piano factory for this to happen. This law calls this a situation one where the facts speak for themselves, or to use the Latin term, Res Ipsa Loquitor.

If you are injured in an accident in Boston, call Jeffrey Glassman Injury Lawyers for a free and confidential appointment — (617) 777-7777.
More Blog Entries
Charlton Rollover Accident Kills 1, Injures 2, July 11, 2012, Boston Car Accident Lawyer Blog