A recent car accident in Massachusetts in the Pine Point neighborhood left a man with serious injuries and sent to Baystate Medical Center, according to MassLive.com. The accident happened around 8 a.m. when a van crashed into a car at the intersection of Berkshire Avenue and Boston Road.
According to Dennis G. Leger, fire department spokesman, upon impact, the car flipped over and rescuers had to use the Jaws of Life to quickly get one of the passengers out of the vehicle.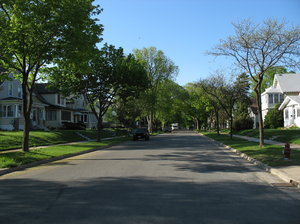 Our Boston car accident attorneys understand how serious accidents can be, even at low speeds. According to the National Highway Traffic Safety Administration most people who break speed limits on local roadways live in the neighborhood in which they're breaking the law. Our driving habits are crucial in creating a safe environment for everyone on the road. You would think that motorists would be extra careful in areas where their family and loved ones live, but that's not always the case.
You may think that since neighborhoods are away from highways, interstates and congested traffic that they'd be safe, but that's not necessarily the case. There are so many dangers that are presented to motorists on these roadways. Drivers must always be on the lookout for children playing, pedestrians exercising, cars reversing out of driveways, school buses stopping, parked cars and animals that may suddenly run out into the roadway. Drivers should always drive cautiously in these areas and remember that the same road rules apply to them.

Dangers to keep an eye on when traveling through a residential neighborhood:
-Children. Young ones use the neighborhood as their own playground. Car accidents are the number one cause of death for children age 4- to 14-years-old in the U.S. Keep an eye out for children running through the streets.
-Pedestrians. Many residents like to get out and stroll through the neighborhood while the weather still permits. Make sure to keep an eye out for all travelers, including pedestrians, bicyclists, skaters and pets.
-Parked Cars. This may seem like a simple obstacle to avoid, but many drivers pay no attention at all. It's also important to keep an eye out for people exiting these vehicles parked on the side of the road. Children can dart from behind the parked car as well. Always pass with caution, slowly and allow plenty of room.
-Blind Spots. Neighborhood landscaping and other obstructions can block a driver's view. Always approach areas with tall bushes, trees, parked cars and light poles with extreme caution.
It only takes one second of distraction or inattention for any of the dangers to get a hold of you and to cause a serious car accident. Neighborhoods are supposed to be a safe place we call home. Please drive with caution to help ensure your family and your neighbors stay safe.

If you or a loved one has been injured in a neighborhood car accident in Massachusetts, contact Boston Injury Attorney Jeffrey S. Glassman for a free and confidential appointment to discuss your rights. Call 877-617-5333.
Additional Resources:
2-vehicle accident in Springfield's Pine Point neighborhood sends male to Baystate Medical Center with serious injuries, 10:58 AM, by George Graham, Mass Live
More Blog Entries:
New England Trucking Accident Blamed on Faulty Brakes, Boston Personal Injury Attorney Blog, October 12, 2011
State Senator Plans to Reroute Traffic to Help Prevent Massachusetts Car Accidents, Boston Personal Injury Attorney Blog, September 22, 2011