One man was killed in a recent accident on Main Street near the Route 74 crossover to Route 63. The 70-year-old was reportedly speeding before crashing into a tree. According to ABC40, the elderly man's vehicle caught on fire by the time emergency response crews arrived just before 6:00 p.m.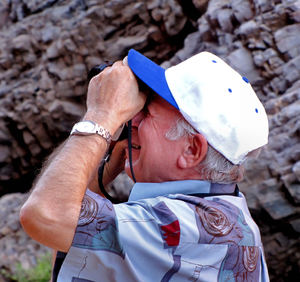 Officials are still investigating the accident.
Our car accident lawyers understand that it's normal for our driving abilities to change as we age. It's nothing to be afraid of, but it is something to be monitored. According to Help Guide, many of us can continue driving safely long into our senior years by reducing risk factors and incorporating safe driving practices. Do you know how age is affecting your driving skills?

Motor-vehicle injuries are a leading cause of injury-related deaths in the older population (persons 65 years and older). Per mile driven, the fatality rate for drivers 85 years and older is nine times higher than the rate for drivers 25- to 69-years-old.
This is why we're turning to the friends and family members of these elderly drivers. We're asking them to take a moment to turn their attention on these individuals and their driving abilities. Remember that many older drivers look at driving as a form of independence. Bringing up the subject of their driving abilities can make some drivers defensive. This is why you want to be ready with your observations and questions, and – if necessary – provide possible transportation alternatives.
You should kick off the conversation if:
-A driver is getting lost on routes they often travel.
-You start to notice dents or dings in their car.
-They're getting tickets for driving violations.
-They getting into accidents or near-accidents too often?
-They're advised by a medical profession to cut down or stop driving.
-They're speeding for no reason.
-They take any medication that could potentially affect their driving abilities.
-They feel overwhelmed with road signs or markings.
And soon there will be a lot of these drivers on our roadways, endangering themselves and other motorists. Keeping an eye on their skills is a good way to keep everyone safe. By the time 2030 rolls around, older drivers will make up 25 percent of all motorists. Additionally, folks are living — and keeping their driving licenses — longer than ever before. And because boomers are known for being stubborn, getting older drivers to pull off the road will surely become more of a challenge.
Many people don't spend a lot of time in the passenger seat while their aging parents drive, which is the best way to gauge their competency. Bringing up the subject of their driving abilities can make some drivers defensive, angry, hurt, or withdrawn. Be prepared with observations and questions, listen with an open mind, and be prepared to offer possible transportation alternatives. It's a good idea to plan how you're going to approach the subject before bringing it up. Take time to consider how the situation looks from the driver's point of view and what driving means to them.
If you have been injured in a car accident in the Boston area, contact Jeffrey S. Glassman for a free and confidential appointment to discuss your rights. Call (617) 777-7777.
More Blog Entries:
New Vehicle Safety Features Stop Accidents Before They Happen, Boston Car Accident Lawyer Blog, October 8, 2013
NHTSA Takes Action to Prevent Backover Accidents With Technology Recommendations & Road Safety Tips, Boston Car Accident Lawyer Blog, September 25, 2013