A recent article on Boston.com brings up some excellent points about proper bicycle maintenance. With summer here, many residents will be dusting off their bikes and hitting the town both on foot and on two wheels. Riders are not only urged to be cautious of motor-vehicle traffic during their adventures through the city, but to also to be cautious about the condition of your bicycle. A properly kept bicycle can mean the difference between safe travels and a Boston bicycling accident.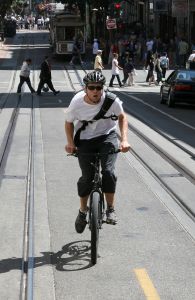 In the Boston.com article, the author noticed a bicycle on his walk home that had been locked to a fence with the seat removed for months. Many bicyclists remove their seat to avoid bike theft. As the seasons changed, the bike remained locked to that fence. It had grown rusty and had almost seemed abandoned.
Our Boston bicycle accident attorneys urge all of our two-wheeled travelers to take good care of your bikes, in every season. Be sure that your tires always have enough air, that it's equipped with proper lights and reflectors, that your chain is well oiled and that the brakes work properly. Many accidents can be caused by malfunctioning equipment. Venturing out on a bike that's not taken care of can result in an increased risk for accidents in our area.
Once the snow cleared and the sun shined through, the bike's owner appeared. The author spotted her one day bent over her bicycle with a can of WD-40 in her hand.
Tips to help you, and other fellow riders, to enjoy the bike riding season safely:
-If you've neglected your bicycle all winter long, be sure to check it out completely before breaking it out this spring or summer. Check to see if the tires look dry or cracked. Check your brakes. If you are not comfortable with these types of repairs, take your bicycle to a local repair shop for some help.
-Learn how to change a flat tire. Make sure each tire is fully inflated and free of debris. Inevitably you will eventually experience a flat tire. Learn how to change it yourself to be better prepared or to even help someone else out.
-Be considerate. If you see a bicyclist pulled over on the ride of the road, ask if they need any help. Bicyclers need to help and protect one another.
-Always wear your helmet. Statistics show that it can save your life. Your risk of serious of fatal injury greatly increases if you're not wearing a helmet during the time of an accident.
-Learn the rules of the road. Look both ways, obey traffic lights, ride with the flow of traffic and wear light or bright colored clothing.
-Never pass another bicyclist on the right. This is especially important if they're stopped at a red light. When you do pass someone, call out: "On your left" to let them know your whereabouts.
According to the National Highway Traffic Safety Administration, more than 600 bicyclists died in 2009 because of accidents involving a motor vehicle. These fatalities accounted for 2 percent of all traffic deaths during the entire year.
Most of these bicycling deaths from 2009 happened in urban areas at non-intersection. Most of them also occurred during the daytime hours, between 4:00 a.m. an 8:00 p.m.

If you have been injured in a Boston cycling accident, contact Jeffrey Glassman Injury Lawyers for a free and confidential appointment to discuss your rights. Call 877-617-5333.
More Blog Entries:
Officials urge motorists to keep cycling safety in mind, reduce Boston cycling accidents, Boston Personal Injury Attorney Blog, April 29, 2010

Bicyclists push for better safety, prevention of Boston bicycle accidents, Boston Personal Injury Attorney Blog, April 23, 2010
Understanding the rules can help reduce risk of Boston pedestrian accidents, bicycle accidents, Boston Personal Injury Attorney Blog, July 15, 2010