Over the Memorial Day holiday weekend, Supreme Court Justice Stephen Breyer broke his right collarbone after being involved in a Cambridge bicycle accident. He was using the holiday weekend to enjoy some two-wheeled fun in the summer weather when he fell from his bike.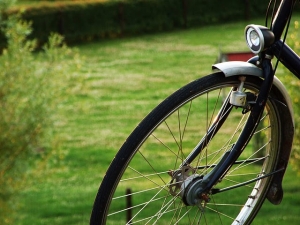 This isn't the first time Mr. Breyer has been involved in an accident while riding his bike in the area. Back in 1993, the former Harvard law professor was hit by a motor vehicle while he was riding his bicycle across Harvard Square in Cambridge, according to Reuters.
Bicycle accidents of all kinds can result in serious injury — even death. Our Boston bicycle accident lawyers recognize the dangers of riding a bicycle is our area and ask that all bicyclists practice extra caution when traveling through the area on two wheels. With summer here, more and more bicyclists will be hitting the pavement to enjoy the beautiful weather. All riders are asked to ride with caution and abide by all bicycle laws.
Bicyclists in Massachusetts are asked to follow these state bicycling laws:
-Riders will use audible warning for other bicyclists and pedestrians. Sirens and whistles are prohibited, however.
-Be sure to park your bike on a sidewalk, but do not obstruct vehicular or pedestrian traffic.
-Lights will be used on your bicycle from one-half hour after sunset to one-half hour before sunrise.
-Reflectors should also be visible on your bicycle.
-Handlebars are not to be raised above the riders shoulder height.
-All bikes must be equipped with a working brake system.
-Cargo is to be carried in a proper basket, rack, trailer or any other device manufactured for this purpose.
-Riders are to travel with the flow of traffic and should not ride more than 2 abreast.
-If a bicyclist is involved in an accident resulting in bodily injury or property damage that result in costs of more than $100, a bicyclist must contact the police in writing on a Cambridge Police Bicycle accident report
-All riders 16-years-old and younger are required by law to wear a bicycle helmet while riding on a public way.
-Remember that pedestrians have the right of way on sidewalks. A bicyclist must yield to pedestrians in all traffic situations.
-All bicyclists are to obey all of the traffic laws of the Commonwealth of Massachusetts. This includes laws associated with red lights, stop signs, and riding with traffic.
-A bicyclist should not be towed by any other vehicle. This includes all cars and any other moving vehicles.
-Bicyclists in all areas of the City of Cambridge a bicyclist, while riding on the sidewalk, will not ride at a speed "greater than a normal walk."
A complete list of bike paths in Cambridge can be found on the Bikely website.

If you have been in a car accident in Boston or the surrounding areas, contact Jeffrey Glassman Injury Lawyers, LLC for a free consultation about your rights. Call (617) 777-7777 to set up an appointment today.
More Blog Entries:
Bike Week Festivities Could Increase Bike Accidents Involving Motorists in Boston, Boston Car Accident Lawyer Blog, May 23, 2011
Bike Sharing Program Could Increase the Number of Boston Bicycle Accidents Each Year, Boston Car Accident Lawyer Blog, May 18, 2011
May Hosts Bicycle Month to Help Reduce Risks of Bicycling Accidents in Boston and Elsewhere, Boston Car Accident Lawyer Blog, May 8, 2011