According to a recent news report from the New Hampshire Union Leader, an 81-year-old nun surrendered herself to authorities after allegedly fleeing the scene of a car accident. Authorities say defendant, who has now been released on bail, crashed into a car outside a shopping mall during the last of the Christmas shopping rush last year and left the scene immediately thereafter.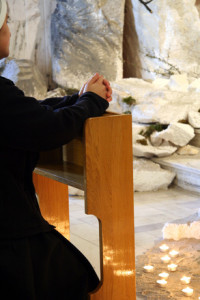 However, before she was able to get way from the scene of the car accident, the owner of the vehicle she allegedly hit managed to write down her license plate number and gave it to local police. Victim also told police that defendant hit her in the rear of her vehicle, and she and defendant both stepped out of their respective cars to exchange information. After the two women spoke for a few minutes, victim says she reached into her car to get some paperwork, and, when she turned back around, defendant had allegedly fled the scene.
Local Authorities say they were eventually able to locate her, though they did not say why it took so long; however, when they attempted to question her, she was allegedly uncooperative and denied any involvement in the accident. The chief of police said this was a very difficult case for them, since the alleged offender was an 81-year-old nun, but they said it was important to the victim to be compensated for her losses as a result of what has essentially been charged as a hit-and-run car accident.
Once the police obtained an arrest warrant for defendant, she turned herself in to answer on the charges and was released on her personal recognizance. It should be noted that defendant is presumed innocent of all possible charges in connection with this incident and will remain innocent unless and until she is found guilty in a court of law by a judge or jury.
One question prospective clients often ask our Boston hit-and-run accident attorneys is how can you recover for personal injury damages if you do not know who the at-fault driver is. This is a common issue, because, in many cases, the police will not be able to locate or arrest the alleged at-fault driver, and you may be left with the possibility of having to sue a John Doe (unknown) defendant. At this point, you are probably wondering how you collect personal injury damages following a hit-and-run car accident if you do not know the identity of the at-fault driver.
In reality, you are not going to collect damages from the John Doe driver, but you may be able to collect damages from your own insurance company through what is known as Uninsured Motorist (UM) coverage. Since you have not identified the true defendant, he or she is considered an uninsured motorist. Basically, your car accident lawyer will have to file a claim with your insurance company and make a demand for payment under your UM policy. Even if you have never heard of UM coverage, if you or someone in your household owns a car, there is a decent chance you have UM coverage under the laws of the Commonwealth of Massachusetts.
If you are injured in an accident in Massachusetts, call Jeffrey Glassman Injury Lawyers for a free and confidential appointment: (617) 777-7777.

Additional Resources:
Elderly nun who left scene after car accident turns herself, February 5, 2016, New Hampshire Herald Leader, By Jason Schreiber
More Blog Entries:
Floyd-Tunnell v. Shelter Mut. Ins. Co. Uninsured Motorist Coverage and Stacking, July 3, 2014, Boston Car Accident Lawyer Blog