According to a news feature from Rolling Stone, two people died and 23 more were injured in Austin when a car crashed into a music festival. Authorities say the street had been closed for an outdoor concert as part of the music festival and a temporary barricade had been erected.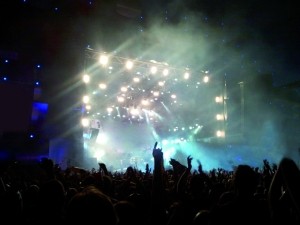 Alleged at-fault driver drove through the temporary barricade and crashed into a large group of concert attendees. Police say they had set up a nearby sobriety checkpoint in which they were looking for suspected drunk drivers. When defendant saw the sobriety checkpoint, he is alleged to have swerved his car through a gas station, and then fled the scene, driving the wrong way down a one-way street.
At this point, officers activated their emergency equipment and went after suspect. As defendant approached the closed street, one officer standing in front of the barricade had to jump out of the way to avoid being hit by defendant's car. The driver kept going through the temporary barricade and hit multiple people in the crowed street.

Witnesses say defendant kept going after hitting the pedestrians on the closed street and did not stop until he hit a taxi and a male and female pedestrian two blocks from the concert. He then allegedly fled his crashed vehicle on foot and attempted to get away from the scene of the second accident. Police managed to catch up with defendant at this point and subdued him with a police-issued Taser.
He was arrested on suspicion of driving under the influence and vehicular homicide, among other charges. The two pedestrians defendant allegedly hit near the taxicab died on the scene of the accident. In total, 23 were injured at the concert, and, of those, 21 were transported to local hospitals. While some of those injuries were listed as minor, some were listed as critical life-threatening injuries.
Local police and concert organizers both noted this was an extremely rare type of automobile accident, as they have many outdoor events, and this was first time anything of this magnitude had happened at this particular venue. Some questioned the police pursuit policy, but officials defended their actions, saying there was only one person responsible for this tragic and fatal accident.
As our Boston car accident lawyers can explain, concerns over a police pursuit policy are not without logic. Many police departments are moving towards or already have policies prohibiting police chases. While this might seem counterintuitive, police chases often result in serious accidents involving innocent bystanders. An alternative is to radio ahead and set up roadblocks to intercept the suspect's vehicle, rather than chasing him. If there is time, a police force with air support can also track suspect's vehicle by marking it with an infrared tracking device that captures vehicle's unique heat signature, making it very difficult for a driver to escape police.
While this may seem like very futuristic technology, most police forces have had this ability for a least a decade. It should be noted, a case against the city does not mean there won't also be a case against at-fault driver, who is clearly responsible for the accident.
If you are injured in an accident in Massachusetts, call Jeffrey Glassman Injury Lawyers for a free and confidential appointment: (617) 777-7777.
Additional Resources:
2 Dead, 23 Injured in SXSW Hit-and-Run, March 13, 2014, Rolling Stone
More Blog Entries:
Estate of Edmund M. Carman v. Tinkes: On Motions for Summary Judgment, August 14, 2014, Boston Car Accident Lawyer Blog