Police are trained to be extremely cautious when standing next to a car on the side of an active roadway. They are taught when pulling a driver over on the right shoulder, to park their cruiser behind suspect's vehicle, but also to the left so as not to be directly behind it. They are trained never to stand in the area between suspect's vehicle and the police car. This area is the most dangerous place to be standing, and is aptly named the "kill zone" in law enforcement traffic enforcement manuals.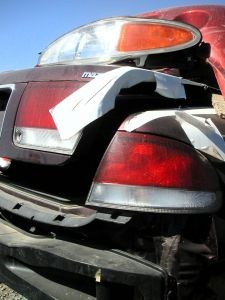 Unfortunately, civilians do not receive this training and are often unaware of the dangers of standing next to a disabled or stopped vehicle on the side of a street or highway can present. According to a recent news article from CBS Boston, a man was killed doing just that.
Authorities say civilians called them to the scene of a three-car crash in Brighton, Massachusetts just outside Boston proper late Friday night. Police soon learned that the tragedy began with a minor fender-bender car crash between a 2003 Mercury Grand Marquis and a 1998 Honda Accord. Following this minor traffic accident, the parties pulled their vehicles over to the side of the road and got out to inspect damage and trade insurance information.

While they were standing there, a 2010 Volkswagen drove by and crashed into the Honda and its driver. EMS responded and pronounced victim dead at the scene of this fatal accident. Volkswagen driver was also injured in the crash and taken to a local Boston emergency room for immediate medical attention. His condition is not yet known. Driver of the Grand Marquis was not injured in either the first or second car accident.
As our Boston car accident lawyers understand, in car accident cases involving more than one crash, the case may require significant litigation with respect to causation. In the Commonwealth of Massachusetts, there are four elements in any car accident negligence cause of action. Those four elements are duty, breach, causation and damages.
Causation, which essentially involves proving who caused the personal injury, is further broken down into actual causation and proximate causation. Actual causation, known my lawyers as "but for" causation means an injury would not have happened but for defendant's conduct. One example of but for causation would be when a 20-year-old man is injured, loses his leg, and is fitted with a prosthetic leg. When the man is 32 years old, a defectively designed artificial leg causes him to fall, and he breaks his wrist. It is true that, but for the early accident, he would not have been wearing the defective leg, and would not have been injured 12 years later. However, while this is an actual cause of plaintiff's personal injury, it is not the proximate cause.
Proximate causation requires plaintiff's car accident lawyer to prove defendant's conduct was not only the actual but also the proximate cause of all injuries. In car accident cases, we can look at whether the first accident causing a driver to exit his vehicle was responsible (legally) for the second injury caused when plaintiff is hit by a car. This would depend on the foreseeability of the second accident.
If you are injured in an accident in Massachusetts, call Jeffrey Glassman Injury Lawyers for a free and confidential appointment — (617) 777-7777.
Additional Resources:
Watertown Man Struck, Killed In Brighton Crash March 28, 2015, CBS Boston
More Blog Entries:
Bell v. Progressive Direct – Shared Insurance With Cohabiting Adults, May 26, 2014, Boston Car Accident Lawyer Blog