Wicked Local recently reported on a man that sustained serious injuries when a truck fell on him from a transport trailer.
Our Boston personal injury lawyers are all too familiar with improperly secured loads on trucks and know the havoc it can create on our roadways.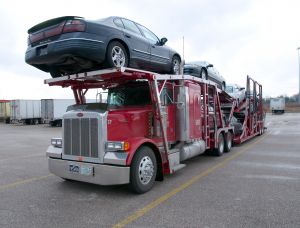 The afternoon accident occurred at a car auction when a pickup truck fell off of a transport trailer. The victim, an employee from the auction, had just secured the truck and was about to check on another vehicle when the incident happened. It appears the truck was not properly secured according to the preliminary investigation.
The man's injuries were so severe he had to be transported by helicopter to Brigham & Women's Hospital.
According to the Bureau of Labor Statistics contact with objects and equipment while at work killed 734 U.S. workers, 12 were in Massachusetts.
This incident could have been far worse if the truck had broke free while in transport.
The Federal Motor Carrier Safety Administration (FMCSA) has many rules and regulations regarding securing cargo, which are documented in the Driver's Handbook on Cargo Securement.
Sections in the handbook include the proper methods to secure: logs, dressed lumber, metal coils, paper rolls, concrete pipe, intermodal containers, vehicles (car, trucks and vans), heavy machinery, flattened or crushed vehicles, roll-on containers and large rocks.
There are a variety of different devices used to secure cargo including: synthetic webbing, chains, ropes, blocking, clamps, friction mat and steel strapping.
Cargo needs to be secured so it doesn't spill, leak, blow off fall through or fall off the vehicle, shift to cause instability or become dislodged. Truckers should do a pre-trip inspection of their load and inspect securing devices throughout the trip.
There are also complex requirements on the amount of force a load needs to withstand from different directions. The load can not shift more than a certain amount from front to back, side to side or upwards.
Properly securing loads is the responsibility of truckers and trucking companies and is necessary to ensure the safety of motorists. An improper load can lead to a devastating crash, causing serious or fatal injuries.

If you or a loved one is seriously injured or killed in a truck accident in the Boston area, contact Massachusetts Injury Attorney Jeffrey S. Glassman for a free and confidential appointment to discuss your rights. Call 877-617-5333.