Most drivers have at some point encountered a foreign object in the road. Sometimes it is part of a tire, which came from a semi tractor-trailer after a blowout. Other times, it is part of a car. In a fair amount of cases, it's furniture that obviously fell off a car or truck someone was trying to transport without proper tie-downs.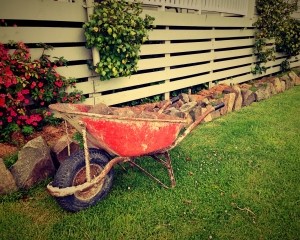 Hopefully, if you are ever in this situation, you can safely take evasive maneuvers and avoid the large object, and do so in a way that does not cause an accident or injury to any other cars on the road or pedestrians walking along the sidewalk.
In some cases, you may be tempted to stop and move the object. But it really is much safer to simply call the police or highway patrol and let them deal with the situation. While this may take slightly longer that you doing it yourself, it is much safer because emergency crews are equipped with road flares and other equipment to alert other cars of an upcoming person or object in the roadway.
According to a recent news article from WWLP News Springfield, state troopers are searching for two drivers in connection with a fatal car accident that seemed to be caused by a wheelbarrow being left in the middle of the roadway. Investigators are still reviewing the facts, but they have released information on the 32-year-old victim who was killed in this tragic accident. They believe he sustained fatal injuries when he was thrown from his car, and it rolled over, after he swerved to avoid crashing into the wheelbarrow.

According to witnesses, one driver sought by police was driving a red pickup truck from which witnesses said the wheelbarrow allegedly fell. Authorities are also looking for the driver of a green Ford Explorer that allegedly stopped after the wheelbarrow fell on the road and kept driving without reporting the incident or removing the wheelbarrow from the road surface. It should be noted, there have been no arrests or criminal accusations made in connection with the incident. The police have only said they wish to speak with these two individuals to see if they have any information about this deadly car accident.
As our Boston car accident lawyers can explain, if the police are able to locate a person responsible for an object being dropped on the roadway during travel, there may be a claim for personal injury in connection with a serious or even fatal car accident. Anyone who operates a motor vehicle in the Commonwealth of Massachusetts is required to maintain his or her vehicle in a safe manner, so as to prevent an accident from occurring. If someone is traveling with furniture on the roof or in the bed of a pickup truck, he or she has the obligation to secure the furniture in such a way as to prevent it from falling off the vehicle.
In the event that it does fall off the vehicle, that person should be aware of what happened and take reasonable steps to remove the object or get police to remove the object, so nobody is injured.
If you are injured in an accident in Massachusetts, call Jeffrey Glassman Injury Lawyers for a free and confidential appointment: (617) 777-7777.
Additional Resources:
Police investigating deadly car accident involving a wheelbarrow , May 11, 2015, 7 News Boston
More Blog Entries:
Floyd-Tunnell v. Shelter Mut. Ins. Co. Uninsured Motorist Coverage and Stacking, July 3, 2014, Boston Car Accident Lawyer Blog