Accidents involving large commercial vehicles such as trucks and buses often result in more severe personal injury than accidents involving passenger cars, or even death.  The reason for this is that a commercial vehicle generally weights at least 10,000 pounds, and some dump trucks when loaded can be upwards of 80 tons.  An average bus weighs around 30,000 pounds.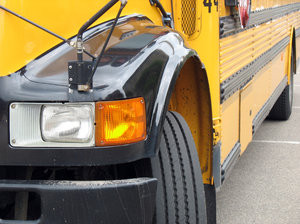 According to a recent news feature from the Boston Herald, a woman in Worcester County died as a result of injuries she sustained during a car accident involving a school bus.  Authorities have said the 57-year-old woman was riding as passenger in a car driven by a 33-year-old man from Rhode Island when she was killed. Authorities do not yet know the cause of the accident, and it has not been determined who was at fault in this deadly Worcester bus crash.  What they do know is that when authorities arrived at the scene, they found the two occupants of the car to have suffered from severe injuries.  First responders did everything they could to stabilize both victims before rushing them to a level-one trauma center in Worcester.   The female bus accident victim's injuries proved too severe for doctors to save her, and she was later pronounced dead.  Male driver's condition is not fully known as of this time, but he is still in the hospital being treated in connection with his injuries from the fatal car accident.  Authorities have also said the bus was full of students at the time of the fatal accident.
If you have been injured in an accident involving a bus, you should speak with a Boston bus accident attorney as soon as possible.  In many cases, the bus is either owned or operated by a municipal government, or a quasi-governmental organization such as the Massachusetts Bay Transportation Authority (MBTA).  One reason that these cases are different is that many governments do have insurance policies like a private company, as they are what is known as self-bonded.  As long as they have the ability to pay any reasonable claim in the event of a settlement or verdict, they are not generally required to carry liability insurance.  What this means is that your attorney will not likely be dealing with an insurance adjuster, but rather with the city's law department, and they tend to be more reluctant to settle cases.  For this reason, you want to make sure your attorney is prepared to actually file a lawsuit when necessary and fight for your rights to a complete and fair financial recovery.
Another thing that distinguishes these cases is what is known as the doctrine of sovereign immunities.  Unlike a private company, the city does not always get to choose what services it provides.  There are certain services that that city is expected to perform or to contract out, so another provider can do the job.  Public transportation is often one of the services.  When a city is performing a needed service, and someone is injured while the city service is being performed, the city may have some protection protect from being sued through this doctrine.
If you are injured in an accident in Massachusetts, call Jeffrey Glassman Injury Lawyers for a free and confidential appointment — (617) 777-7777.
Additional Resources:DA: Woman dies after Mendon school bus crash, August 25, 2016, By Laurel J. Sweet, Boston Herald
More Blog Entries:
Report: Fall River Teen Killed in Car Crash on Way to Prom, June 26, 2016, Boston Car Accident Injury Lawyer Blog