Calvin Harris, a world famous DJ from Scotland was recently injured in a car accident and has canceled several planned shows as he recovers from his injuries, according to a news feature from E Online.  Authorities say the accident involved an SUV in which Harris was a passenger and Volkswagen Beetle being driven by a teenage girl.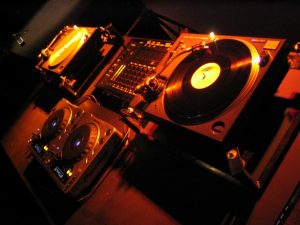 It has been alleged that the teen driver was operating her motor vehicle along a narrow canyon roadway, of which there are many in the Los Angeles area, when she crossed over the center line into the opposing lane of traffic.  Her vehicle crashed into the SUV at high rate of speed.  Authorities also have said the female driver, who was not wearing a seat belt at the time of the serious car accident, was thrown from the vehicle, and, after being ejected, hit the ground with enough force that she reportedly broke her pelvis.  There were other passengers in her car, but it is unknown at this time if any of the other people in her car were injured in the serious motor vehicle crash.
When first responders arrived at the scene, they attempted to provide immediate medical attention to the female driver and placed her on a board to keep her from further injuring her pelvis when she was moved.  After being put on a backboard and then loaded into the ambulance, she was rushed to a level-one trauma center. Her injuries are not believed to be life threatening at this time, but it is clear she was badly hurt as a result of this tragic car accident.
As for Harris, he suffered a fairly serious head laceration and was taken to the hospital for a concussion evaluation.  His spokesperson released a statement saying that his client has been treated at the hospital and is now at home trying to finish his recovery.    In addition to his own music and to other accomplishments, he is also well known for being in a relationship with Taylor Swift.
One of the most important things you do if you are in a serious traffic accident and suffer any kind of personal injury is should seek prompt medical attention.  In some cases, people think they are really hurt bad enough to warrant an ambulance ride to the hospital and decline the paramedics or EMTs' offer.  The problem with this is that the pain may start a day or even two days following the serious Boston car accident.  When this happened and you filed claim with the alleged at-fault driver's insurance company, the insurance company may argue that you were not really injured in the crash, since you declined medical attention and did not go for a few days.  There will also be a hospital record associated with the accident, which can be of major assistance to your experienced car accident lawyer.
It is believed there were also passengers in the SUV in which Harris was riding, but it is not known whether any of them were injured.
If you are injured in an accident in Massachusetts, call Jeffrey Glassman Injury Lawyers for a free and confidential appointment: (617) 777-7777.

Additional Resources:
Calvin Harris Injured in Car Accident, Shows Canceled, May 27, 2016, E Online, By Corinne Heller
More Blog Entries:
Floyd-Tunnell v. Shelter Mut. Ins. Co. Uninsured Motorist Coverage and Stacking, July 3, 2014, Boston Car Accident Lawyer Blog