According to a recent news report from CBS Boston, a driver traveling in the wrong direction on Interstate 495 near Boston was killed in a fatal car wreck.  A spokesperson for the Massachusetts State Police (MSP) has said the accident occurred around 2 a.m. and involved a Toyota Corolla being driven by the alleged at-fault driver who was killed and another driver who was traveling in the correct direction.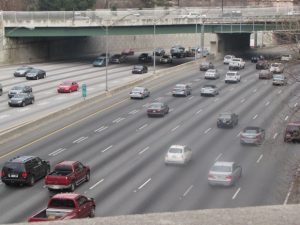 While police are still investigating and have not concluded why the victim's car was traveling in the wrong direction, they have said one witness said the car was traveling in the wrong direction.  At this point, he called 911 and turned his vehicle around so he could follow the car that was driving in the wrong direction.  He did this so he could flash his lights and sound his horn in hopes that an oncoming vehicle would be able to see the car more easily.   However, the police dispatcher told him that for his own safety, he should turn around and get off the highway, as troopers were on the way.  The crash happened just after this call ended.The witness said he had chosen to follow the car, because he did not want anyone's Thanksgiving holiday to be ruined by the actions of this driver.  While many assume that an accident that occurs at this time of the morning involves alcohol, the authorities have not issued any statements as of this time as to whether alcohol or drugs were a contributing factor to this fatal Boston area car crash.  It should be noted that this was not the first wrong way crash in this area in recent months, as there have already been several reported.
On thing to keep in mind is that civil and criminal laws may come into to play when trying to prove a negligence case such as a Boston car accident lawsuit. The reason for this is because there are four elements in every negligence case.  The elements are as follows: duty, breach, causation, damages.
The first element is that the defendant owed a duty of care towards the plaintiff.  In a car accident case, this is imposed by statute.  If you choose to drive a car on the roads of the Commonwealth, you have assumed a duty of due care towards anyone else on the roads and sidewalks.
The next element is whether you breached that duty of care.  If you were in an accident in which you failed to act as a reasonable and prudent person so as to prevent foreseeable injury to foreseeable persons and places, you breached that duty of duty of care.  However, this is something that has to be established at trial.  If the defendant breaks a traffic law, that is often called a per se violation of the duty of due care and proof of a breach may be automatic.
However, this does not mean you automatically win the case, as you will also be required to prove causation and damages.  Causation is further separated into actual causation and proximate causation.  Damages is the amount of money the accident has cost you and will cost you in the foreseeable future.
If you are injured in an accident in Massachusetts, call Jeffrey Glassman Injury Lawyers for a free and confidential appointment — (617) 777-7777.
Wrong-Way Driver Killed In Crash On I-495, November 24, 2016, CBS Boston
More Blog Entries:
Report: Fall River Teen Killed in Car Crash on Way to Prom, June 26, 2016, Boston Car Accident Injury Lawyer Blog