According to a recent news report from Mass Live, a defendant was arrested after he allegedly fled the scene of serious traffic accident in Holyoke, Mass. The accident from which he allegedly fled was a multiple-car accident with several personal injury victims.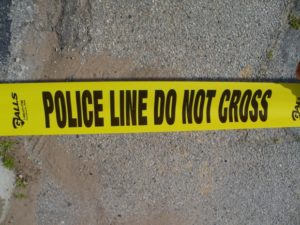 Authorities have said the driver was operating his motor vehicle when he lost control of the car for reasons unknown at this time, and headed towards an exit ramp from Interstate 91 in the wrong direction.  Once he reached the ramp, he crashed into a car that was headed down the ramp off the highway.   After allegedly hitting this first vehicle, he put the car in reverse to get away from the scene of this accident and supposedly crashed into another vehicle. 
At this point, authorities then say defendant fled the scene of multi-vehicle accident on foot, leaving the car behind. When first responders arrived at the scene, they provided immediate medical attention to the injured victims and transported two of them to local hospital for further treatment.  While the total extent of their injuries is not known as of this time, it is believed that they are not life threatening.
Police officers who responded to the accident along with emergency medical personnel quickly released that the alleged at-fault driver had fled on foot.  At this point, they called K9 units to the scene and went after the missing suspect.  They also also called in various air support units, including a Massachusetts State Police (MSP) helicopter.   He was soon located by the search teams and placed under arrest on charges of operation to endanger, two counts of leaving the scene of an accident, and operating a motor vehicle with a revoked license.   It is important to note that these charges are merely allegations, and there has been no finding of guilt as of the time of this article in connection with this serious hit-and-run accident.
In many hit-and-run accidents, the driver is never found. In the vast majority of cases, even if the driver is later found, if someone was driving without a valid drivers' license, such as someone who has had his or her license revoked, is it likely the driver also did not have car insurance.  If you are involved in a Boston traffic accident and the alleged at-fault driver did not have insurance, you can use a part of your own insurance policy known as uninsured motorist coverage (UM).  Even if you have never heard of UM coverage, if you or someone in your household owns a car and has valid insurance coverage under a plan in the Commonwealth, there is a high likelihood that you have UM coverage, unless you specifically disclaimed the coverage after full disclosure as to what it is.
This coverage is designed to help in a situation where the driver who caused and accident is either unavailable at trial or did not have enough insurance to cover the fullest extent of your damages. It should be noted that is not necessarily important whether or not you were in that insured vehicle at the time of the accident.
If you are injured in an accident in Massachusetts, call Jeffrey Glassman Injury Lawyers for a free and confidential appointment — (617) 777-7777.
Additional Resources:
It's time for action on Social Security disability insurance, May 6, 2016, The Hill, By Jim McCrery and Earl Pomeroy
More Blog Entries:
Pedestrian Dragged Hundreds of Feet in Car Crash – Western Massachusetts, June 13, 2015, Boston Car Accident Attorney Blog