In the clear majority of car accidents, a car will collide with another vehicle such as a car, truck, SUV, or motorcycle. In some accidents, a car will collide with a pedestrian, and these are often accidents that result in serious personal injury or death.  In other cases, a car will crash into a fixed object such as a sign post, tree, utility pole, or other similar item.  However, in some cases, a car will crash into a residential or commercial building, and these crashes can result in serious personal injury to persons and property.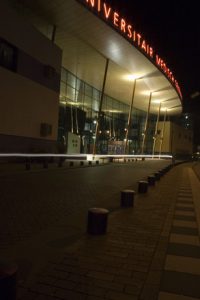 According to a recent news report from CBS Boston, car crashed into the emergency room of a Newton hospital.  There were reportedly two elderly women in the car that crashed through the glass front of the emergency room.  Authorities say there was nobody near the windows at the time of the crash, so nobody inside the hospital emergency room was injured. Authorities have also said that when the driver pulled up to the emergency room to try to get treatment, she was planning to put the car in park, but accidentally put the car in drive and stepped on the accelerator.  This caused the car to accelerate and go flying into the emergency department and through the windows.
The woman who was driving the car is 87 years old, and the passenger was an 86-year-old woman.  The one positive aspect of crashing into an emergency room is that it did not take long for help to arrive.  Doctors were immediately on scene and assessed the condition of the two vehicle occupants.  Not surprisingly, they were both very shaken up, according to witnesses, but did not suffer severe personal injuries.  One woman had a bloody nose as result of this Newton car accident.
The driver of the vehicle allegedly told police that it was not her car ,and she was not familiar with the controls.  She was not charged with any crime, but likely was cited for various civil moving violations.  It should also be noted that there were no formal accusations of negligence filed as of the time of this article.
The hospital sent its building staff to the accident site to meet city inspectors, and it was determined that there was no structural damage that would make it a danger to stay open.  The hospital continued to run normally following the car crashing into the emergency department.  The emergency room stayed open as well.
One thing to keep in mind is that even if a driver is negligent, that doesn't mean the passenger was negligent.  In fact, there are very few cases, if any, where the passenger is also negligent.  This means that a passenger who is injured in a car accident where the driver of the car he or she was riding in was deem at-fault for the accident, he or she will need to file a claim against that person's car insurance company to have a chance of obtaining a full and appropriate financial recovery.
If you are injured in an accident in Massachusetts, call Jeffrey Glassman Injury Lawyers for a free and confidential appointment — (617) 777-7777.
Additional Resources:
Car Crashes Into Emergency Room At Newton-Wellesley Hospital, June 4, 2017, By Jim Smith, CBS Boston
More Blog Entries:
School in Falmouth Holds Memorial for Student Athletes Killed in Crash, Feb. 12, 2017, Boston Car Accident Lawyer Blog