According to a recent article in the Lowell Sun, first responders arrived at scene in response to a dispatch call for a serious car accident in Dracut, Massachusetts. The accident occurred around 4 p.m. on New Boston Road. When firefighters got to the scene of the crash, they found a driver still trapped in his car.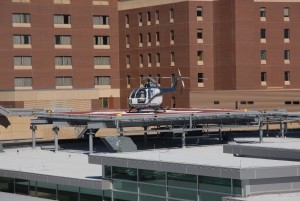 Emergency personnel worked to free the trapped driver from his wrecked vehicle, which they believe skidded sideways into a utility pole. Impact was first made on the driver's side of the vehicle. Emergency medical technicians and firefighters got driver out of his car, and he was transported by ambulance to Dracut High School, where they had already arranged for a medevac helicopter to meet them in the school's parking lot. Paramedics secured injured driver in the medevac helicopter and transported him to a Boston level one trauma center.
Police conducted an investigation, which is still underway, and, while the cause of the accident and victim's current condition are still unknown, they noted the utility pole was completely severed about ten feet off the ground. It was still standing up due to the support wires anchoring it in place.

As our Boston car accident lawyers understand, many people assume a single vehicle accident was the driver's fault. However, this is not always a correct assumption. There are a variety of reasons for a single-vehicle crash. One typical situation involves another vehicle driving in a negligent or reckless manner causing victim to swerve his or her vehicle to avoid a collision. This can often result in victim driving off the road into a guardrail or even a utility pole.
Another possible reason for a single vehicle crash involves a defective or improperly repaired component on a car. If there was a manufacturing defect in the vehicle, this could be responsible for a serious car accident. An experienced car accident attorney can first check if there had been any recalls or service bulletins not shared with customers and can also review records from past cases to see if a similar problem had occurred in the past.
If a customer had gone to an auto repair shop for even something as simple as an oil change and tire rotation, a mechanic could have improperly installed wheel lug nuts, causing a serious accident. In this situation, you should speak with your attorney about filing a car accident lawsuit against the repair shop. You should also discuss with your attorney if you have been given a citation in connection with the single vehicle accident, as the investigating officer may not have been aware of the mechanical defect.
Another cause of single vehicle crashes for which injured victim could bring a personal injury lawsuit involves an unsafe condition in the roadway, which could have been prevented with proper maintenance by municipal agencies responsible for making the roads safe. However, any lawsuit against a municipal government or government agency will require a serious amount of litigation and a true understanding of the laws pertaining to sovereign immunities. You should speak with your car accident lawyer to make sure he or she has experience with these types of cases.
If you are injured in a car accident in Massachusetts, call Jeffrey Glassman Injury Lawyers for a free and confidential appointment — (617) 777-7777.
Additional Resources:
Driver airlifted after Dracut crash , March 22, 2015, Lowell Sun
More Blog Entries:
Lockwood v. Geico – Bad Faith Claims & Auto Insurance, May 28, 2014, Boston Car Accident Lawyer Blog